Gartner: EMEA server market is two-horse race between Dell and HPE
Sector is 'bifurcating' between Meg's biz and Texan Mick's server ops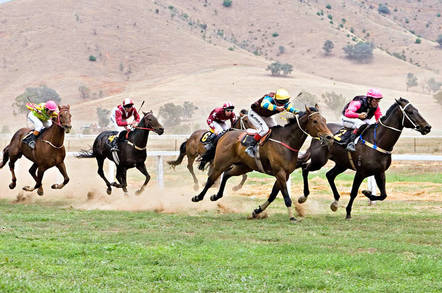 The EMEA server market looks to be a two-horse race between Hewlett Packard Enterprise and Dell, according to Gartner.
There was a relative spike in demand during calendar Q3 as shipments went up 1.4 per cent to 533,106 units and the value of those sales increased 3.7 per cent to an estimated $3bn - this followed a shrinking market in Q2.
"This year has been up and down for the server market in EMEA," said Adrian O'Connell, research director.
He said the region's server space was driven by a refresh cycle that offset the pesky forex issue, but warned, "the ongoing economic environment remains difficult for server vendors".
HPE, Dell and Cisco "all benefited" from Lenovo's acquisition of IBM's EMEA x86 server organisation at the start of this year, and though the Chinese firm edged into third place, market share remained below that of Big Blue a year ago, Gartner revealed.
That said, HPE declined in revenue estimates by 1.6 per cent to $1.146bn indicating a higher mix of lower value machines sold as shipments grew 2.1 per cent to 207, 646.
Over at Dell, server revenues jumped 11.1 per cent to $504.4m but in a mirror opposite to HP, its unit sales declined 1.2 per cent to 106,619.
Lenovo - working to sort out its issues - sold $256.7m worth of gear, up from $15.44m a year ago, and units grew to 34.577 versus 7,191. Cisco leaped into fourth, displacing IBM, as revenues and shipments swelled by double digits. IBM's server turnover more than halved to $206.4m from $440.8m a year earlier, and its shipments didn't place it among the top five vendors.
"The EMEA server market is at risk of bi-furcating into HP, Dell and then everyone else," said Gartner's O'Connell.
"All vendors face challenges but, aside from Cisco, most are losing share to HP sand Dell. The pressure is on to improve efficiencies now or be left behind in the race for future enterprise business."
Between them in Q3, HP and Dell accounted for 55 per cent of revenues in EMEA and nearly 60 pr cent of units.
Globally, the server market reported a 7.5 per cent rise in server vendor revenue estimates to $13.5bn globally and a 9.2 per cent hike to 2.76 million boxes. ®
Sponsored: Minds Mastering Machines - Call for papers now open