Vote for me, Hotspot Hillary – I'm your $250bn broadband builder-in-chief
Other presidential candidates seem to think the internet is just for raising money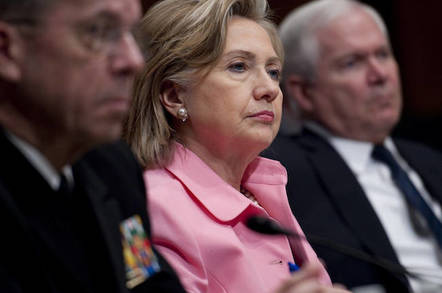 Analysis Hillary Clinton has announced a $250bn plan to build out the United States' broadband infrastructure and ensure that everyone has fast internet access at an affordable price by 2020.
That's the headline figure anyway in her new policy position called "Building Tomorrow's Economy Today." In reality, the presidential candidate has pledged to fund a $25 billion dollar "national infrastructure bank" over five years that will cover all infrastructure improvements for roads, bridges, pipes, and internet network.
That bank will provide "up to an additional $225 billion in federally supported investment," according to the policy paper, by leveraging "the $25 billion in direct loans, loan guarantees, and other forms of credit enhancement."
It is the first time that a presidential candidate has addressed the issue of the United States' under-performing internet infrastructure and noted the importance of fast internet access to the country's future well-being.
One sub-head in the broader plan is titled: "Connect all Americans to the digital economy with 21st century Internet access." It notes that Clinton "believes that high-speed Internet access is not a luxury; it is a necessity for equal opportunity and social mobility in a 21st century economy."
And the actual detail?
As to actual policy, it is not so much a new position as a statement to continue the policies of the Obama Administration. She will "finish the job" by giving "100 percent of households in America ... access to affordable broadband that delivers world-class speeds sufficient to meet families' needs."
She will "foster greater competition in local broadband markets to bring down prices" – something that the OECD (Organisation for Economic Co-operation and Development) recently reported was very effective – and increase broadband adoption by "investing in low-income communities and in digital literacy programs." And she will continue the Obama plans to connect "anchor" institutions such as schools and libraries to high-speed broadband.
The one aspect that does appear to be new is a promise to "invest new federal resources so that train stations, airports, mass transit systems, and other public buildings can have access to gigabit connectivity and can provide free Wi-Fi to the public."
Interestingly however, even Clinton's $25 billion infrastructure bank idea doesn't appear to have been her own.
Democratic rival Bernie Sanders has been talking about the US' lackluster networks for some time, noting that the US comes 16th globally in terms of broadband access, and 12th in terms of average speed, according to the OECD.
"Today, businesses, schools, and families in Bucharest, Romania, have access to much faster internet than most of the United States. That is unacceptable and has got to change," Sanders says in his policy position on "rebuilding America."
Interesting, Sanders pledged the exact same figure as Clinton – $5 billion a year – but solely for internet rollout, rather than all infrastructure needs, through an Act of Congress. "The Rebuild America Act will invest $5 billion a year to expand high-speed broadband networks in under-served and unserved areas, and to boost speeds and capacity all across the country. Internet access is no longer a luxury: it is essential for 21st century commerce, education, telemedicine, and public safety," he said.
As for the one other potential candidate, Martin O'Malley, he seems to hold the same view – that fast internet access is critical to the country's future ("Education without internet connection is tyranny," he argued) – but also seems driven by the Obama Administration's stance.
"Thanks to President Obama's help and the Recovery and Reinvestment Act, we also completed a $115 million dollar cyber infrastructure connecting broadband throughout our state," O'Malley told supporters at a recent speech.
And the Republicans
As for the other side of the political divide, the idea of building out the country's internet infrastructure barely registers as an issue.
Infrastructure in the Republicans' eyes is about roads, bridges, and electricity. Most mentions of the internet in their materials revolve around how it can be used to raise money from people without having to attend hundreds of fund raisers.
Perhaps unsurprisingly, it is the youngest candidate in the race – Marco Rubio – that has the most evolved policy regarding the internet's infrastructure; he even visited Dyn at its headquarters although, according to reports, didn't really talk about internet issues so much as the future economy.
However, Marco is savvy enough to understand the term "sharing economy" and to see the impact that the internet is having across the country and economy. His solution to supporting that, however, is all the usual Republican tropes: reduce red tape and taxes – approaches that could apply to any business.
Marco also seems to have a broad understanding of internet governance issues and the risk of government interference. As you might expect, however, that exclusion of government extends to net neutrality, and he and all Republican candidates are unpersuaded by the FCC's efforts to protect the provision of internet access from the commercial imperatives of telco operators.
Somewhat surprisingly for the former CEO of Hewlett Packard, there is nothing on the Carly Fiorina campaign site about the internet.
But that is likely more a result of limited resources rather than lack of positions: Fiorina has given frequent speeches about the internet in the past and the need to grow its infrastructure. The big question is whether as President she would put political pressure and/or federal money into broadband provision and adoption.
Let me just answer that...
For Jeb Bush, the internet is all about security. He will "work to repeal" the FCC's net neutrality rules of course, but beyond that, it is all about protecting what we have rather than growing it.
"We must understand the importance of the internet's infrastructure, the data it contains, and the responsibilities of those who build, sustain, and use it to ensure its robust defense. That includes all of us – individuals, educators, the private sector, and the government – all working in concert to achieve the promise of the internet. This is where Presidential leadership is so important," he explains.
As for the other candidates, Ron Paul and Ted Cruz are all about internet freedom, although they don't seem to have scratched below that straw man argument into the realities of the situation. Ben Carson has no view at all on these things – which is odd for a man who appears to have strong views on everything from the Pyramids to how nice migrant camps are.
And as for The Trump™: he's all for investing in infrastructure because it will stop the US sending money to foreigners. And of course the person to do it is: him. That's not a joke by the way. This is the quote: "It is necessary that we invest in our infrastructure, stop sending foreign aid to countries that hate us, and use that money to rebuild our tunnels, roads, bridges, and schools – and nobody can do that better than me." ®