HP storage financials: Meh. Meg Whitman needs to make this right
Final results aren't good for storage bods at HP(E)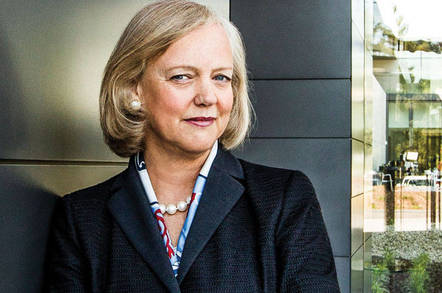 +Comment HP, no HPE, storage's revenues are down again, continuing a longish slump and, with HP Inc (PCs and printers) now undocked from HPE (the rest), many are asking the question: "What next?"
Within HP's* revenues for the fourth fiscal 2015 quarter, converged storage product revenues (3PAR, StoreOnce, and StoreAll) grew nine per cent while the traditional ones (EVA, MSA, & Tape) declined 19 per cent compared to the year-ago quarter.
For the full fiscal 2015 year converged storage product revenues grew 11 per cent while traditional products sank 15 per cent in comparison to last year.
Let's chart these results and see what we can see. The overall storage result shows steadily declining product revenues for the last four years since a high point in 2011.
If we look at the split between converged and traditional storage revenues we can see how the newer so-called converged storage products revenues have grown to overtake those from the traditional storage products.
Yet traditional product revenues have held up nicely in recent quarters.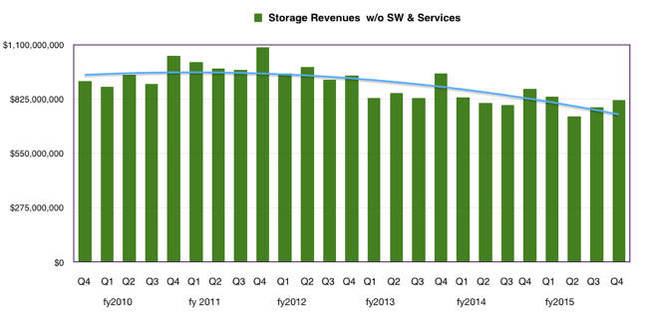 Declining quarterly storage revenues
There is a pretty clear seasonal pattern for converged storage, with Q1 in a financial year being high, Q2 being lower and Qs 3 and 4 exceeding that low point with Q4 surpassing Q1.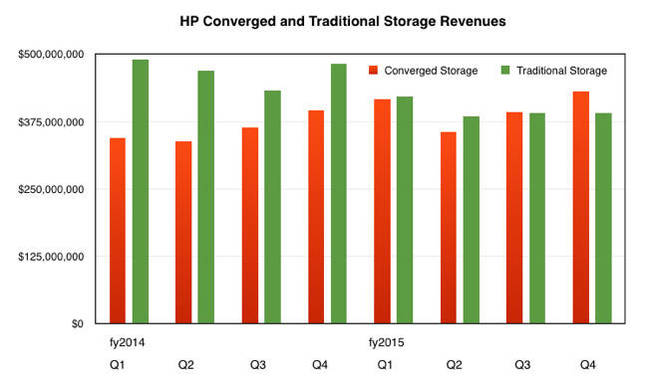 Converged and traditional storage products split
Analyst haus Stifel MD Aaron Rakers said: "Storage ...was below our $862m estimate, but flat y/y. Converged 3PAR revenue up 17 per cent y/y in constant currency and now accounts for 53 per cent of total storage revenue – all-Flash 3PAR highlighted as growing triple-digits y/y."
+Comment
Essentially, everyone's storage eyes will now be looking at what HPE does next. All-flash 3PAR is a strong performer and may be making progress adding new customers to HPE's base. It could even be out-growing Pure Storage.
Yet 3PAR cannot carry the storage product set growth burden on its own. StoreOnce, StoreAll and Store-everything-else have to grow as well.
A big question is how will Manish Goel, HP's SVP and general manager for storage, get storage product revenues growing again? A bigger one is how CEO Meg Whitman will get get HPE overall growing again?
Can she do this? Is it now a mature company that just cannot grow in its current form? If so, that would mean acquisitions. Financial analysts on the Whitman watch will be quick to detect flaws in her game plan and point them out.
She has to get HPE overall growing or surely she will be on the way out. Likewise, if Goel fails to get HPE storage moving in the right direction then he may have to fall on his sword. ®
Bootnote
* (HP Inc + HPE)