EMC mess sends New Zealand University TITSUP for two days
The more EMC tried to fix it, the worse things became
Victoria University in Wellington, New Zealand, experienced two days of Total Inability To Support Usual Performance (TITSUP) after failures in its EMC equipment.
An email sent by senior IT staff at the University reports that "the storage systems that manages all our servers have experienced multiple failures over the past 2 days."
Sign-on to networks was slow, Internet connections went down and even printing was problematic.
EMC USA was engaged to help, apparently without much success as the letter says "When we fix one issue we are getting further problems."
We've asked EMC and the University about the products used and the cause of the outage and have been sent the following statement:
"Since being alerted to the unexpected technical incident at the Victoria University of Wellington, EMC has provided the highest levels of support to the University to restore services as soon as possible. The vast majority of services are already operational."
We've also contacted the executive who sent the email below. He appears to have flicked it to the University's communications team and hasn't offered any of the detail we requested about the nature of the outage or the EMC products involved.
At a guess, this looks like a major failure of a storage area network, likely including products beyond EMC's given that printing and internet access were also impacted. El Reg is attempting to learn what other products are present at the University that may have contributed to the outage. ®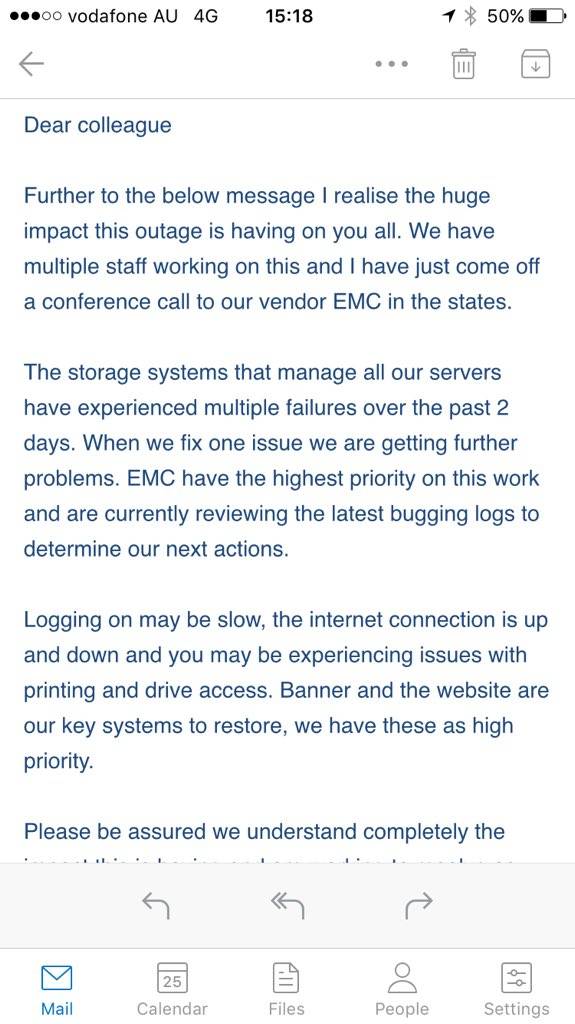 Oopsies.