Brocade wrings profits from a steady-as-she-goes business
The SAN growth glory days are well and truly over, so where next?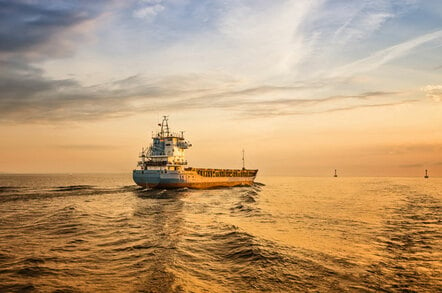 Analysis Brocade has jogged along nice and evenly for four years now, at around $2.25bn annual revenues with steadily rising profits, and its fiscal 2015 added a similar fifth year of pretty decent results.
It saw $2.26bn in revenues and a $340m profit, while in full year 2014 it saw $2.21bn in revenues and a $238m profit, indicating that a) things are going fairly well, and b) CEO Lloyd Carney runs a tight, cost-controlled, ship.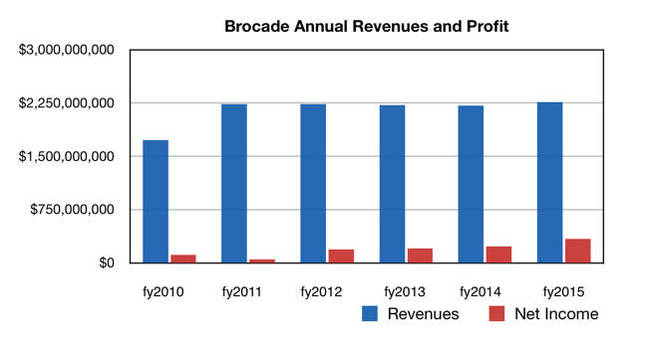 The final quarter of full year 2015 showed growth on the annual compare, again a tribute to the control exerted by Carney and his team. Revenues was $589m, 4.4 per cent higher than a year ago, with profits of $84m, or just 0.7 per cent higher.
It's all very steady and Brocade is a well-managed, mature supplier of networking products ... but where are the growth prospects? The fourth quarter SAN (Fibre Channel) product revenue was $325m, flat year-over-year and up five per cent quarter-over-quarter.
For the 2015 fiscal year, SAN product revenue was $1.30bn, down two per cent year-over-year, primarily due to lower switch and embedded switch sales, although partially offset by higher director sales.
In the fourth quarter of full year 2015 IP networking product revenue was $170m, up 12 per cent year-over-year, and 10 per cent quarter-over-quarter. The fourth quarter year-over-year increase was primarily driven by a 28 per cent increase in Ethernet switch sales and improved software sales, but partially offset by a 20 per cent decline in router revenue.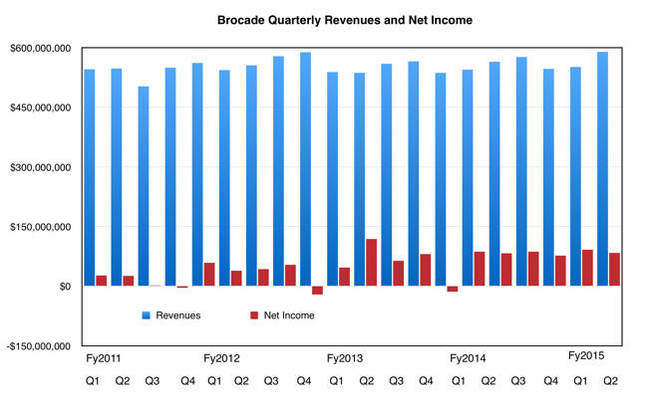 For the full year IP networking product revenue was $601m, up 14 per cent year-over-year due to stronger switch, router, and software sales.
So, Ethernet gear sales are growing but not enough to offset declining Fibre Channel product revenues. Is the outlook for the next quarter (first quarter, full year 2016) more of the same? It expects revenues between $550bn and $570bn, which is about 2.8 per cent lower than the year-ago period. Why the fall?
Stifel MD Aaron Rakers notes Brocade expects IP networking revenue to decline by 16-22 per cent sequentially, due mainly to a seasonal US federal decline and slowing router sales.
The rest of the year looks mildly positive, with Network Packet Broker products looking good, as do converged FC and IP storage platforms.
China is still positive for the Fibre Channel, with Brocade having done deals with Huawei and Lenovo and hoping for one with Inspur to be finalised by the end of calendar 2015.
Rakers points out that during its September Analyst Day, Brocade outlined an expectation that the FC SAN market would be down one per cent in 2016 and 2017. On the other hand, Brocade expects its IP networking addressable markets to grow from $33.9bn in 2014 to $37.3bn by 2017.
"Brocade executed well in its close to its fiscal year, topping consensus estimates by $14m and $0.02 on the top and bottom line, respectively," wrote William Blair analyst Jason Ader. "However, guidance for the fiscal first quarter was below expectations."
The SAN growth glory days are well and truly over as hyperconverged systems, virtual SANs, iSCSI, Big Data analytics HDFS, and the public cloud all combine to limit Fibre Channel SAN growth. It faces the Cisco meat-grinder in Ethernet and is making progress, but break-out growth looks unfeasible.
Brocade has settled, it appears, for running its FC and Ethernet businesses as effectively as possible in the circumstances and is no longer a growth company, but it remains a bloody well-managed one nevertheless. ®
Sponsored: Minds Mastering Machines - Call for papers now open