The Register reveals SAP's very own version of Black Friday
Undercutting on maintenance deals to keep S4/HANA on track?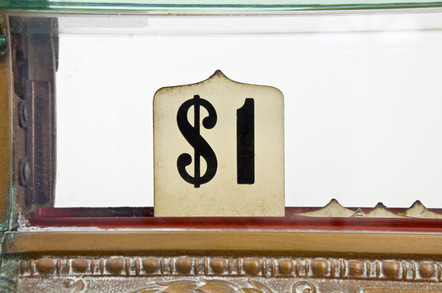 Exclusive SAP is understood to be aggressively discounting the price it charges for maintenance to retain customers.
A Register investigation has uncovered cases where the software giant is offering customers who are considering switching to independents extremely competitive deals.
The threat is this: companies paying SAP on an ongoing basis to support their software, with new features and fixes, will defect to independent suppliers providing the same service for much less than SAP.
Industry sources tell The Reg SAP has been aggressively cutting its prices for the whole of 2015 but the intensity of deal-making peaked in the third quarter.
During that quarter SAP customers began turning their attention to contract renewals.
SAP is understood to have retained one international transport firm with a "good discount" offer after it contemplated support from elsewhere. The firm had a maintenance bill worth millions of pounds. Moreover, to retain one international shipping firm, SAP slashed its price by 40 per cent.
The giant has also offered a group of UK local authorities a "significant" discount after they'd mulled a possible cut of 62 per cent by going elsewhere.
Maintenance is vital to SAP because it can make money on an ongoing business from what would otherwise be a one-off software sale and licence agreement. Maintenance is charged at either 19 per cent or 22 per cent of licence costs for SAP's Standard or Enterprise Support offerings.
The UK and Ireland SAP User Group told The Reg that the majority of its members are on the 22 per cent enterprise tranche.
Nigel Pullan, EMEA vice president for Spinnaker Support, confirmed SAP had become increasingly open to cutting deals – this year more than before.
Pullan reckoned it could be part of a drive to retain customers in order that they eventually become users of S4/HANA – the firm's declared strategic direction.
"It has made discounts a little bit over the past few years but this year there seems to be a concerted effort to keep customers, much more than in the past, more of a coordinated strategy," Pullan said.
He reckoned only those customers who were comfortable and satisfied with SAP would be open to dealing but those unhappy with the firm would be unlikely to be persuaded to stay.
The Register has talked to SAP customers who've expressed their dissatisfaction with SAP for having committed them and SAP to S4/HANA, a next generation business suite.
They are concerned they are now paying for maintenance and updates to existing SAP software that won't be forthcoming now the target is S4/HANA.
Customers will typically be tied into maintenance deals for three years; the danger, naturally, is that prices go up or revert to normal once the sweetheart deals expire.
Philip Adams, chairman of the UK and Ireland SAP User Group, said that on licensing at least, his organisation would continue to challenge the giant. His goal is to ensure licensing costs are transparent and flexible.
"When it comes to commercial negotiations that is solely between individual customs and SAP," he said.
The Register asked SAP to comment, but the firm declined, saying it would not comment on what it called "rumours or speculation." ®
Sponsored: Minds Mastering Machines - Call for papers now open