Don't flip your lid: The Internet of Helmets has arrived
Building company decides electronic sweatband can stop workers overcooking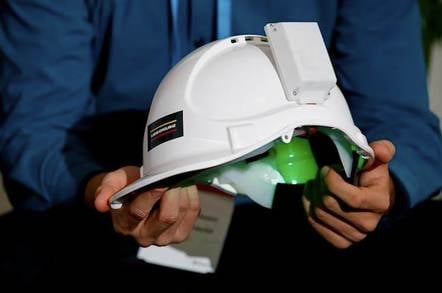 Microsoft has shown off an internet helmet built by a customer.
The hard-wired headwear is the brainchild of construction outfit Laing O'Rourke, which is rightly concerned with the welfare of workers it sends out to build stuff in the sweltering heat of places like Australia and the Middle East.
Folks toiling in the hot sun in such locales are liable to come down with nasty ailments like heatstroke, which the company would rather avoid because an afflicted worker is a danger to their colleagues as well as themselves.
The firm's therefore found a way to fit sensors measuring heart rate, ambient temperature, body temperature, ultra-violet light and location into the sweatband of a bog-standard building site hard hat. There's also a Zigbee radio in there with a range of 100m to shunt all the data into a Linux box, which passes it on to an Intel Compute Stick. That device shunts the lot into Azure where the incoming data's crunched and turned into alerts to get that chap off the site, stat. And not because of the classic building site shocker - horrid arse-crack exposure – but rather because the helmet suggests a worker's in a physical state that suggests ill-health or increased likelihood of accidents.
What's that you say? Building sites are bigger than 100m? They certainly are, so Laing O'Rourke's cunning R&D folk have daisy-chained Zigbee repeaters and reckon they've built a helmet-net with a range of 500 metres. Zigbee's low power requirements make for all-day data beaming action. And if you're worried about all that collection, storing-and-forwarding and cloud uploading going on, know that heatstroke's symptoms can be detected before a sufferer notices them. So a few minutes diagnostic delay won't be disastrous.
Laing O'Rourke's trialling the techno-trilby at present, but thinks it might be onto something worth licensing to others.
If it does, the definition of "wearable technology" may be set for a little extension. Now if only technology could do something about those arse-cracks … ®
Sponsored: Becoming a Pragmatic Security Leader