Another $75m for Datto as EMEA and APAC expansion beckons
But could the Hillary Clinton email issues rain on its parade?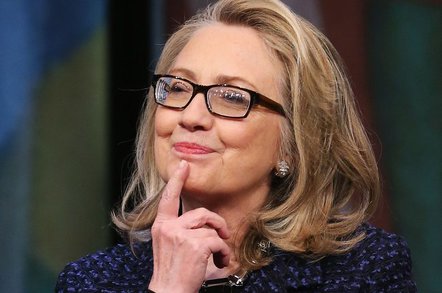 Technology Crossover Ventures (TCV) has led a $75m B-round for cloud backup and biz continuity service/product supplier Datto, as it looks to expand its presence in the EMEA and APAC regions.
Datto provides backup, recovery and business continuity products used by thousands of managed service providers around the planet. It was started in 2007 by founder and CEO Austin McChord, and received $25m in A-round funding in 2013.
The company's Total Data Protection Platform backs up and protects customers' business data on premises, in virtual or physical servers, or in cloud-based SaaS applications. It claims to be the only supplier that offers end-to-end recoverability and single-vendor accountability.
We're told Datto manages more than 160 petabytes of data and performs a million-plus backups a week for its customers. It's profitable, experiencing record year-over-year revenue growth ... so why is the extra $75 million needed?
McChord's prepared quote said: "As a profitable company, Datto isn't raising capital to fund operations, but instead, to enter new markets and build new products and technology. With this new investment, Datto is excited to be pushing ahead to build new technology and improve the experience for our MSPs and end users."
It's a VC-funded dash for growth. Datto said it's expanding into the EMEA and APAC regions, and launching additional products for its partner network and customer base.
Some of the new cash will pay for an expanded Europe, Middle East and Africa (EMEA) infrastructure, including more data centres and an expanded distribution partner network across the region. Another portion will pay for product development.
In the EMEA region its partners and customers will see more marketing initiatives next year, a larger team, and the additional infrastructure, which should lead to faster sales growth.
With APAC contributing as well that should bring the day closer when Datto could IPO and return its investor's capital and then some.
Ted Coons, a general partner at TCV, becomes a Datto board member. His canned quote reckons that "cloud-based data protection holds great promise in ensuring information is always accessible and recoverable as more organisations conduct business in the cloud, and Datto has a tremendous opportunity to grow internationally in meeting this need".
Datto's board looks pretty heavyweight for what is a comparatively small startup:
Patrick Gray, a board director of Civitas Solutions after nearly four decades with PricewaterhouseCoopers
Ursula Burns, Chairman and CEO of Xerox, also a board member of American Express and Exxon Mobil Corporation
Austin McChord
Non-executive Chairman Paul Sagan, the former CEO of Akamai Technologies
Steve Herrod, former CTO of VMware and currently a Managing Director of General Catalyst Partners, which led Datto's Series A financing
One small fly in the ointment is that Datto has found itself caught up in the Hillary Clinton email imbroglio, having backed up the contents of her email server and having to deal with the FBI.
There's no suggestion it did anything wrong, but opponents of Mrs Clinton's presidential candidacy hope that contents of her deleted emails might be recoverable, and, in that case, might show her using a private email service for state secret information, which could help torpedo her candidacy.
Whoever thought backup to the cloud could be so exciting? Certainly not Datto when it agreed to backup yet another email server out in the Colorado sticks. ®
Sponsored: Detecting cyber attacks as a small to medium business