EMC enables data movement from the white fluffy stuff
Data centre forecast: Expect cloud-busting winds from the Amazon basin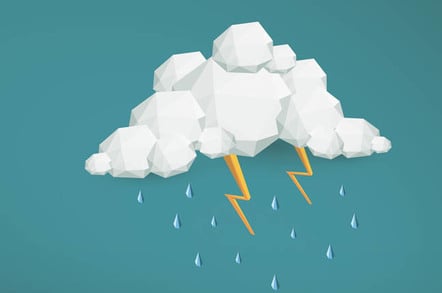 Cumulo Hopkintus is forming new product shapes as cloud winds strengthen in the data centre. There's no bending with these gales, and EMC is having to go with the flow, enabling data movement off its arrays and into the public cloud.
But it's also providing better data protection in the cloud than Amazon, Google or their like, or so it claims, with an improved Spanning product.
VMAX and VNX on-premises arrays can tier data to/from the cloud. VMAX does it with FAST.X, automatically tiering to public clouds from both EMC and non-EMC storage.
By using EMC CloudArray technology and connecting the VMAX to a SAN and a network switch, customers can automate the allocation of data to storage targets both on-premise and in the cloud, based on their own service level objectives
VNX customers can do the something using VPLEX. The product's cloud tiering includes the public cloud as a target as well as private clouds. Supported public cloud targets for VMAX and VNX using these technologies are VMware vCloud Air, Microsoft Azure, Amazon S3 and Google Cloud Platform .
Data Domain and Data Protection Suite customers can move backed-up data to the public cloud using CloudBoost 2.0, with EMC saying this is "enabling customers to leverage the economic benefits of the public cloud for long-term data retention".
V2.0 CloudBoost has3x faster throughput and 15x more data capacity than previous versions. It enables deduplication and incremental restores simultaneously, without the need for any additional cloud compute infrastructure.
For EMC-based service providers and EMC customers offering data protection as a service (DPaaS), Data Domain's DD OS 5.7 OS has enhanced capacity management, secure multi-tenancy, and a denser shelf configuration which reduces total cost of ownership.
Spanning, which is a software product running in the public cloud to backup and protect data there (because the native facilities are feeble), has enhanced restore and security capabilities plus new regional deployment within the European Union. A Spanning Backup for Salesforce product has enhanced SaaS data restoration capabilities.
The Networker 9.0 backup software product has a new universal policy engine to automate the process of moving protection data through tiers of storage, with protected data stored locally for immediate access and cold data systematically handed off to more cost-efficient cloud targets.
Networker 9.0 integrates with EMC's ProtectPoint and delivers integrated block-level protection for Microsoft and Linux environments.
These moves to provide a quasi EMC data fabric covering the on-premises and public cloud world are part of the same initiative that saw Isilon CloudPools launched a few days ago.
Comment
EMC is assenting to the logic of putting cold data in the public cloud for archive but not agreeing that either primary or nearline data should be moved there. That would be a step too far for VMAX, VNX and Isilon product managers who are not willing, really, to see their hardware disappear to the same degree as NetApp appears willing to consider with its ONTAP DataFabric.
In effect, EMC is saying it's either tape or the public cloud for old and cold data. It's never been that keen on tape, so no real change there then.
Only ... the public cloud Gods are greedy, they want their fill of data. They want data in their clouds feeding compute instances in their clouds. Unless the incumbent disk array suppliers are offering their own public clouds, like VMware's vCloud Air and Oracle's offering, ditto IBM with SoftLayer, then they face the distinct threat of fading away and becoming mere data managers for hybrid cloud customers with bulk data in the public cloud and just data remnants on-premises.
And when it's all gone to the cloud then who will need them at all? The necessity for incumbent on-premises storage suppliers is to build a public cloud offering, get in bed with one, or die. ®
Sponsored: Minds Mastering Machines - Call for papers now open