Dell and EMC customers happy about prospect of Dell/EMC merger
Independent research suggests cash splash coming ... if Dell keep its paws off VCE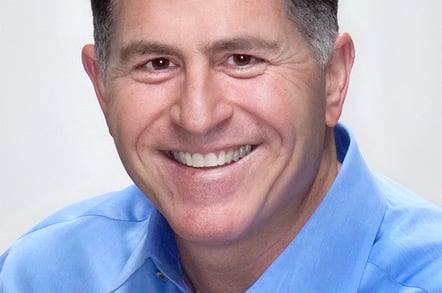 Dell and EMC customers like the idea of a Dell/EMC merger and largely plan to spend more with the combined companies, according to analyst outfit the Enterprise Strategy Group (ESG).
The firm surveyed "202 senior IT decision makers at organizations that currently purchase from Dell and/or EMC Federation companies". Of that sample 69 per cent were "senior IT management" such as CIOs, 24 per cent were lower level IT managers and seven per cent were general IT staff. 68 per cent of respondents employed over 1,000 staff, the remainder were midmarket companies with between 100 and 999 people on the payroll.
The research was done off ESG's own bat: neither Dell, nor EMC, nor any other party paid for the survey to be conducted or analysed. ESG was just curious (and perhaps desirous of stories like this mentioning its work).
There's lots of good news in the research for Dell and EMC, with 60 per cent of respondents suggesting they'll splash more cash with a combined company. 65 per cent expect "more complete and innovative technology solutions" post-merger and 58 per cent reckon they'll feel more comfortable about both companies long-term prospects once the deal is done. 42 per cent fear post-merger messes as the two organisations sort themselves out and 40 per cent anticipate unpleasant changes to their service and support arrangements.
But overall, respondents think the deal will be a good thing, as the graphs below show.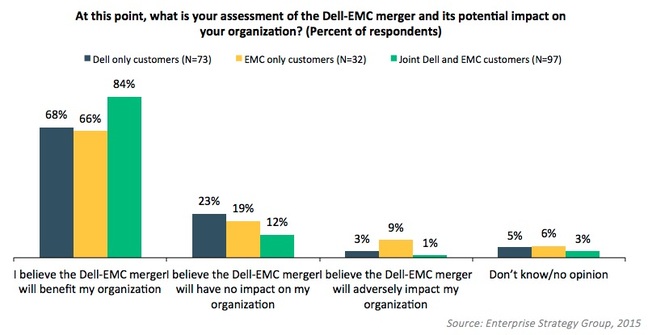 Impact of Dell/EMC merger on your organisation. Click here to embiggen.
You want pie? We've got pie!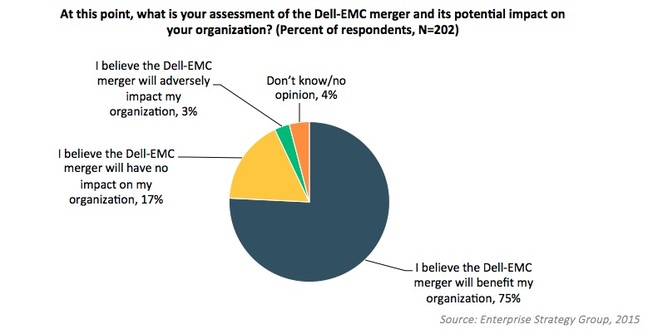 Lots of folks like you think EMC/Dell will be swell. Click here to embiggen
One area in which respondents are telling Dell to be careful is VCE, the Cisco/EMC/VMware converged infrastructure joint venture. If Dell were to replace Cisco's UCS servers with its own, things would not go well as the graph below shows.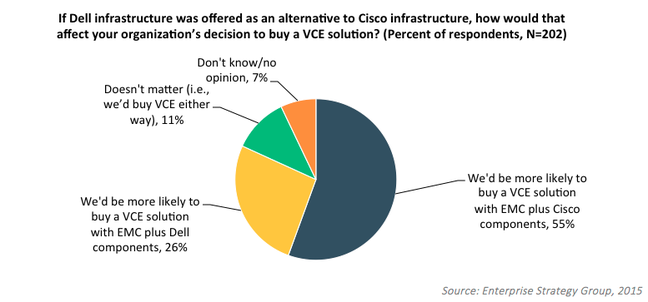 Whaddawewant? UCS! Whendowewantit? Even after Dell owns VCE! Embiggen here
The full report can be read here and while when N=202 confidence can't be colossal, El Reg nonetheless expects it will get plenty of traffic from inside Dell and EMC as it paints a very positive picture about customers' intentions. ®
Sponsored: Minds Mastering Machines - Call for papers now open