Slovakians seek funds for battling drone squadron
Smartphone-controlled quadchopper tomfoolery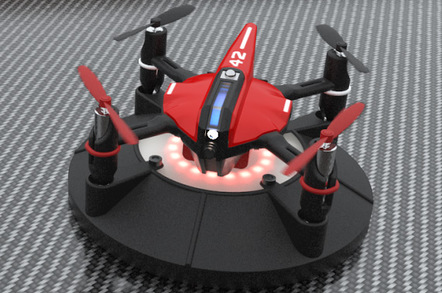 A Slovakian company is attempting to raise $70,000 to get its "Drone n Base" fleet of battling mini UAVs off the ground.
According to the tin-rattlers down at Indiegogo, Drone N Base is the "ultimate multiplayer drone game", enabling smartphone-controlled racing or aerial combat. The basic kit includes a lightweight (46g with battery, and therefore suitable for unregistered use in Ireland) quadcopter, base station, two batteries (seven minutes flying time on one battery), charger and spare props.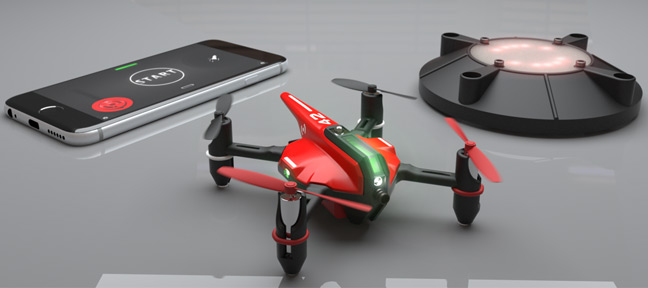 Naturally, there's an app – iOS or Android – enabling remote vehicle control via Bluetooth, and the drones interact with each other and the base station via infrared.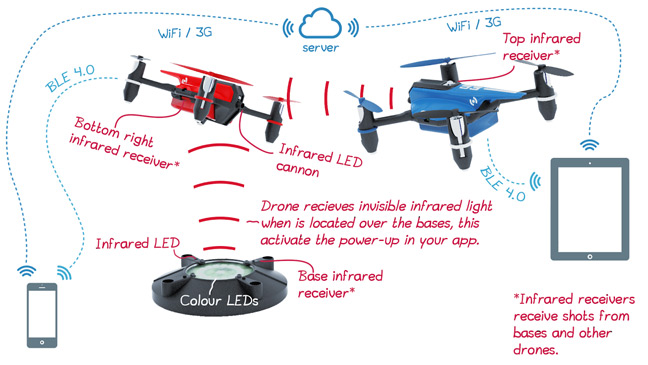 A single Drone N Base kit will cost ultra early birds $99, but of course for full-on tomfoolery you'll need two choppers ($199) or even a quartet of vehicles ($599). Delivery is estimated for August 2016.
Other smartphone-controlled minidrones are available, and in any case we're certain readers can knock up a similar system for five bucks using a 12V-motor bolted onto a hand whisk and controlled via a couple of tin cans connected by knotted string.
Nonetheless, what caught our eye with Drone N Base is that it appears to have done the proper legwork in getting its system ready for manufacture.
Many of you will doubtless be aware of the ZANO fiasco, which saw 12,075 backers pledge £2,335,119 towards the "ultra-portable, personal aerial photography and HD video capture platform".
Unfortunately, the firm behind the project simply couldn't deliver. There's more here from the BBC.
As ever with crowdfunding projects, it's a case of caveat emptor. ®