It's Gartner Magic Graph of Wonder time! And Google won't be happy
Information Archive MQ? Just the ticket
Focus your eyes on this little MQ beauty from Garner's gnomic gnosticians who have tracked, analysed and rated enterprise information archive suppliers' products and technology.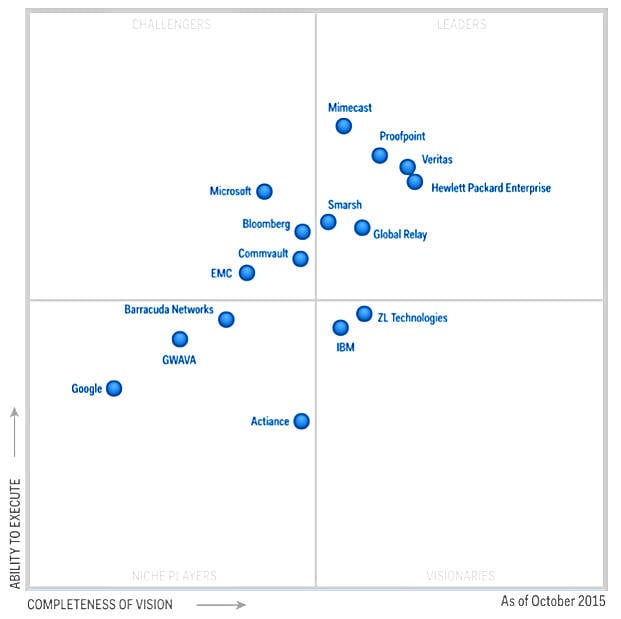 2015 Gartner Magic Quadrant for information archiving.
Whoo-hoo, Commvault is a challenger and not a leader. In fact there are six leaders: Veritas, HP, Proofpoint, Mimecast, Social Relay and Smarsh. Commvault is accompanied by Bloomberg (with Bloomberg Vault), Microsoft and EMC. Back in the doghouse niche players' box are Barracuda Networks, GWAVA, Google - yes, Google - and Actiance. We have two visionaries; oldster IBM and relative newster ZL Technologies.
What an odd collection of suppliers.
Gartner says enterprise information archiving is for user messages and multifarious files and documents, with the centre spot being mail storage – hence, we guess, Google's presence. The technology involved can include "federated archive repository management, and common policy management for migration, retention and discovery across multiple repositories."
It can be implemented on premises or as a service from the cloud (SaaS), with the latter being the choice for newer customers.
Last year's IA MQ was rather different;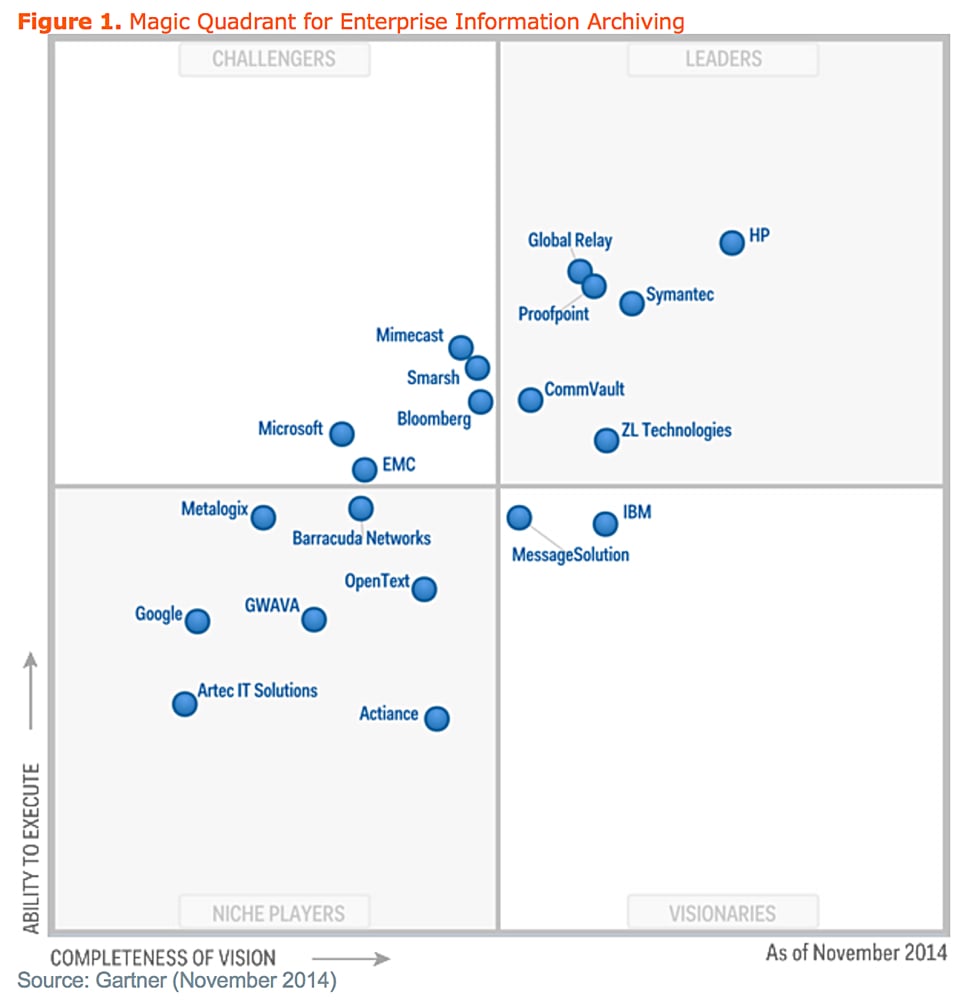 2014 Gartner Information Archive MQ
HP has vanished. Commvault has motored backwards. Mimecast and Smarsh have motored forwards. ZL Technologies has gone backwards at a terrible lick. Artec IT Solutions, MessageSolution, Metalogix, and OpenText were dropped.
You can access the Gartner IS MQ doc here (registration required) and read up on all the suppliers. Enjoy. ®
Sponsored: Minds Mastering Machines - Call for papers now open