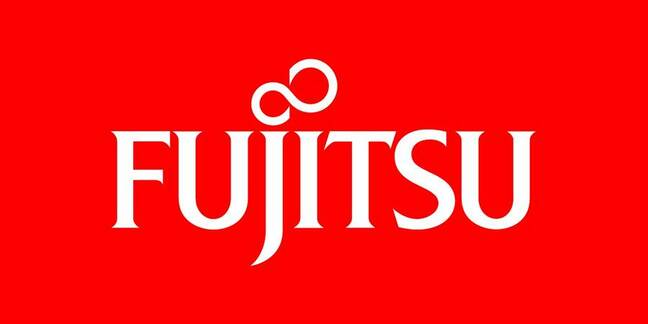 Fujitsu has updated two of its backup and archiving appliance products; the ETERNUS CS200c and CS800.
Both of these use OEM'd software and provide deduped backup to disk. They have been given a hardware refresh with faster CPUs, which speeds dedupe.
The CS200c S2 all-in-one backup and archiving product embeds Commvault Simpana software for backup and archive, whilst the CS800 uses Veritas NetBackup. The smaller CS200c comes in an entry-level range, with -S, -M and -L systems, and a pair of Scale models; the SCC and SCP.
The CS200c now supports cloud backup for 20+ cloud storage platforms, and its setup is more automated. The system licence has a flat fee for an unlimited number of clients and is available in Foundation and Advanced variants.
The Foundation is a base licence, with Advanced providing "all of the standard features of the Appliance Foundation Software package, but adds application support for Windows, Linux/Unix, Oracle, and SAP applications. Snapshot, snapshot replication, tape, and cloud support are optional".
Customers can also buy it licence-free if they have an existing Commvault setup.
You can check out S2 version specs here: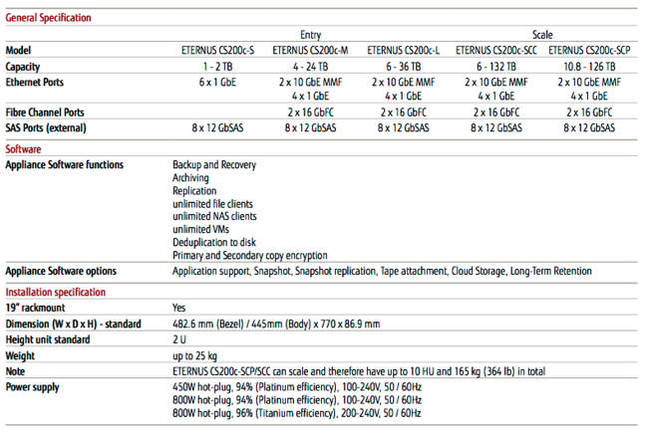 CS200c spec table
The CS200c is a skinny 2U box while the CS800 takes up 24U. It combines backup and restore from disk with replication and deduplication for small and mid-sized customers.
Previously, it was a four-model range with an entry model capped at 24TB, and three so-called Scale models with maximum capacities ranging from 120TB through 240TB to 320TB.

Gen 5 to gen 6 CS800 changes
Now there are two entry models, one of which is extendable to 120TB, thus replacing the first Scale model of the prior generation product. The single Scale model has a 32TB to 352TB range, slightly increasing the 320TB maximum capacity of the old range.
The 352TB is the highest possible capacity level with RAID configuration. Fujitsu said that dedupe-friendly environments can allow customers to store several petabytes of backup data.
A Fujitsu spokesperson tells us that the "entry extensible" product is technically "based on the entry model, but can scale with cost-effective JBODS. So it does not only fill a gap in the capacity ranges but brings ... the costs down in the midrange segment".
The CS800 includes support of Veritas NetBackup Accelerator for faster backup and "drastically reduced load on the network". Fujitsu said VMware backup and recovery improvements means less hardware is needed, with probable lower VMware licensing costs.
Customers can restore single files, folders, databases, and applications rather than whole virtual machines as competing systems often require.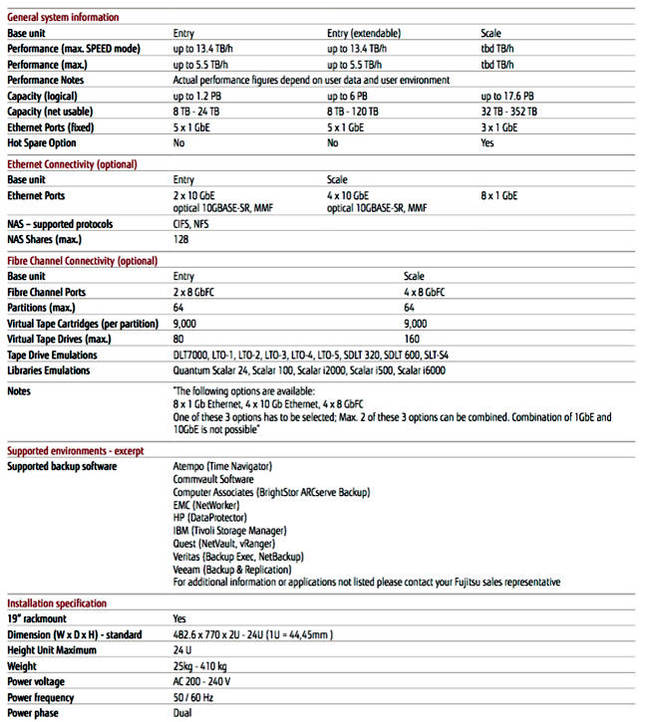 CS800 S6 specifications
There is a high-end CS8000, a unified data protection appliance, for backing up and archiving data from mainframes and high-end servers in enterprises. This was refreshed two months ago.
It seems curious that Commvault software, which is predominantly sold to larger enterprises, is used by Fujitsu for an entry-level backup to disk product, with NetBackup positioned in the mid-range and the CS8000 aimed at the high-end, Commvault's traditional customers.
The CS800 S6 and CS200c are available in Europe, Middle East, India, and Africa. Both can be purchased direct from Fujitsu or its distribution partners. Pricing and specifications vary by configuration and country. ®
Sponsored: Webcast: Ransomware has gone nuclear