EMC Isilon extends its software out to ROBO edge and cloud
Firm embraces Data Fabric-like idea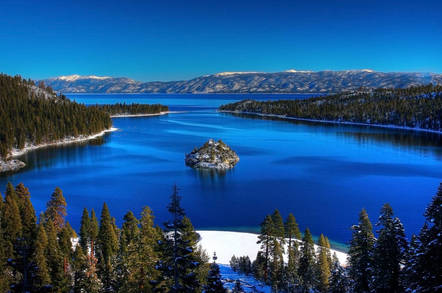 EMC has announced Gen 8 of its Isilon operating system, providing it in software-only form for small offices, and adding the ability to send less active data to the cloud with the Cloud Pool construct.
Isilon is EMC's scale-out filer offering and it runs the OneFS software. It's an unstructured data storage system support file protocols as well as HDFS
The company is calling this its Data Lake 2.0 strategy, with the so-called lake flooding out to embrace an enterprise's edge, its remote and branch offices. The software is IsilonSD Edge, SD meaning software-defined, and will likely run on server hardware in the VMware VSAN-ready node hardware compatibility list.
It will support VMware ESX and be integrated with vCentre for management.
Edge, which is free for non-production use, supports up to six nodes with 36TB of stored data – its 50PB at the core – and replicates it to/from a data centre Isilon installation; shades of file sync and share. In production use Edge is licensed per cluster.
OneFS v8, with a revised and better-performing kernel, now has non-disruptive upgrades, increasing its availability. It was non-disruptive for minor upgrades already but is now fully non-disruptive for major upgrades.
Is case the upgrade was not needed the system can be rolled back. Users can return "their application or end-user environments to a pre-upgrade state as required". This is called a .Next option. OneFS 8.0 adds SMB 3.0 support.
Cloud Pools send less-active data to public, private or hybrid clouds for archiving, freeing up space on the core Isilon filers. EMC said this is good for data that needs to be kept for compliance or other regulatory use.
Isilon now has an archive tier, with archived files still visible in the Isilon global namespace, and hence readily accessible.
Target clouds, external object stores, include AWS, Azure and VMware's Virtustream, with no cloud gateway needed to do the data moving. Other targets are EMC's ECS and Isilon filers used in private cloud mode.
Files sent to the cloud are encrypted and compressed. Pricing will be on a $/GB/month basis, and should be cheaper than on-premises Isilon, with a CAPEX to OPEX transition as well.
Cloud Pools can store more than 50PB, the Isilon cluster limit, with eight trillion-plus files being mentioned.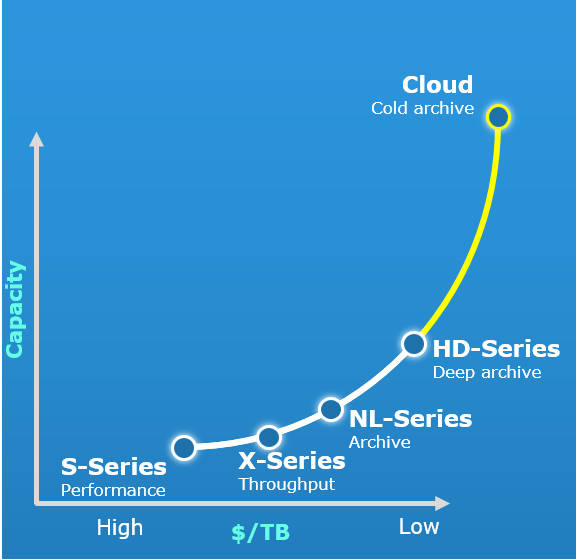 Chad Sakac chart showing Isilon system tiers
Let's try changing some terminology here, and suggest EMC, is creating an Isilon data fabric that embraces data centre and ROBO deployments, and extends out to the public cloud via Cloud Pools, all within a OneFS access and management environment.
NetApp would have sympathy with such a concept and might even suggest EMC's OneFS 8.0 release validates its own Data Fabric ideas.
Check out a Chad Sakac blog on this Isilon SW release here. He said there will be more software-defined Isilon releases coming, perhaps a OneFS plus bare metal option.
OneFS 8.0, Isilon SD Edge, and Cloud Pools will be generally available in early 2016 and pricing info will be released then. ®