CAIDA publishes latest 'net topology kit
What the Internet 'looks like' today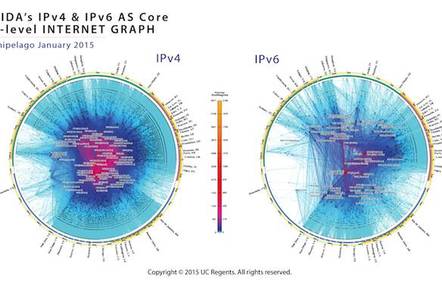 CAIDA's expanding network of Archipelago monitors has delivered the organisation's latest Internet maps.
The August 2015 Internet Topology Data Kit, announced at the end of last week, is a tool for 'net researchers to try and untangle the dizzying maze of routes that deliver our data.
CAIDA used 94 Ark monitors in 36 countries for IPv4 data collection, and 26 monitors in 15 countries for IPv6.
The data collection underlies important analysis work by CAIDA and others – for example, the researcher group hosted at the University of California, accurately predicted an increasing number of "black hole" routing events.
Most usually, traffic gets dropped into a black hole when a sysadmin fat-thumbs BGP advertisements for their network, like in 2008 when a Pakistani telco told the world it was the best route for YouTube.
However, CAIDA says an increase in such events is evidence that Internet routing is increasingly unstable and could do with a complete do-over (a very big ask, given how many people would have to upgrade their routers).
The Ark project is part of that effort: by giving researchers a solid analysis of today's topology, the data can help 'net boffins craft alternatives or improvements to the now-ancient, creaking and insecure Border Gateway Protocol.
Last year, CAIDA announced that it intended to expand Ark to 200 probes worldwide. Earlier in November, the group's presentation to the IETF HOPS Working Group showed it had reached 135 probes.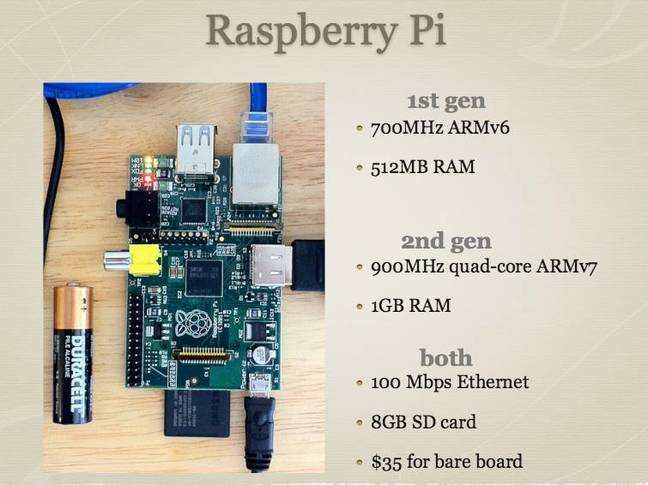 CAIDA's Raspberry Pi-based Archipelago probe
The Register notes with interest that the expansion is made possible partly by the popular and cheap Raspberry Pi: a complete Archipelago monitor with power supply now costs just US$68. ®