Goodfella's attack smacks Slack chap for whack crack? It's a fact, Jack
Robert De Niro goes Raging Bull on wiseacre tech bro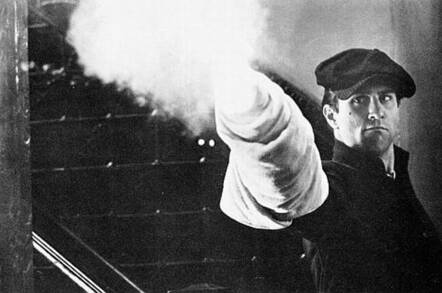 Legendary actor Robert De Niro doesn't think much of tech's "brogrammer" culture, and he made as much known this week when he verbally eviscerated one smart-mouthed app developer.
The confrontation (if you could call it that) took place at an awards show in New York hosted by the Wall Street Journal.
According to the New York Post's Page Six section, Slack CEO Stewart Butterfield was given a gong at the WSJ Magazine's Innovator Awards right before De Niro was slated to present another award to friend Angelina Jolie.
In his speech, Butterfield made a few cracks about the showbiz audience that the two-time Oscar winner found in poor taste, including turning to De Niro at one point and telling the man who played a young Vito Corleone, "I watched Godfather II on the plane ... when you killed Don Fanucci, I liked that."
Apparently, De Niro did not take the kidding particularly well, because when it was his turn on the podium, the 72-year-old actor delivered a beatdown that would have made Jake LaMotta proud. As quoted by Page Six:
Whoever the last speaker was ... I thought you were a bit condescending to us actors ... celebrities. I'm gonna go on record with you just to say that. And I don't give a fuck who you are.
Butterfield, for his part, took the slam in stride.
I just literally got trash-talked by Robert De Niro. "I don't know who the FUCK you are." #lifegoals pic.twitter.com/j9yT5ZiU4A

— Stewart Butterfield (@stewart) November 5, 2015
It seems when your startup is valued at nearly $3bn, not even getting called out by a Hollywood icon can hurt your feelings. ®
Sponsored: Practical tips for Office 365 tenant-to-tenant migration