Symantec numbers are out. Execs might wish they weren't
CEO: Our storage-free world is almost here, now just need to secure our future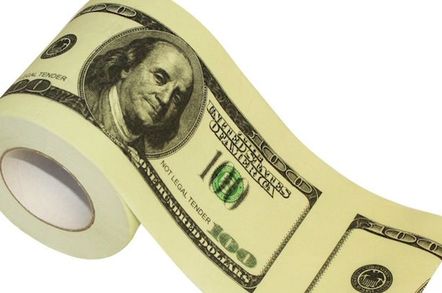 A soon to be storage-free Symantec has reported its last numbers before the split with Veritas and they aren't good - not if you are a company exec or investor.
The firm has operationally split from Veritas - which was offloaded to private equity biz The Carlyle Group - but the legal separation is set for 1 January.
Nevertheless, sales for Symantec's Q2 of fiscal '16 ended 2 October were down seven per cent year-on-year as reported to $1.498bn.
Of course, the perennial forex challenge for US-based companies with overseas operations was again evident, sales were down one per cent in constant currency.
Content, subscription and maintenance sales were down eight per cent as reported to $1.33bn, and licenses declined four per cent to $165m.
Symantec chose – understandably so – to first highlight pockets of growth. Enterprise security was up one per cent year-on-year to $485m with DLP products up 37 per cent and Endpoint up two per cent.
It revealed the consumer security segment, Norton, was down eight per cent to $420m.
Continuing the trend, Information Management - Veritas - grew two per cent to $593m, but the reasons for this weren't given.
Symantec CEO Michael Brown said the company is at the half-way point of its three-year turnaround plan to "refocus" the security product strategy, cut costs and "rebuild executive talent".
The leadership team has changed, with some exiting in certain regions, some people joining including Dan Rogers joining as chief marketing officers. Recently, UK boss Keith Bird quit after five months in the role – he was the second boss in months.
Brown said the next priority as it prepares to break away from Veritas is to keep slashing costs, "realise the unified security strategy", build an enterprise pipeline of sales and "renewed focus" on the channel, and "efficiently allocate capital".
For the quarter, op-ex went up to $1.03bn from $991m, and operating margin crashed to 13.6 per cent from 21.5 per cent
Operating profit dropped to $203m from $348m, down 42 per cent as reported but down 29 per cent in constant currency
Interest expense and tax left net profit of $156m versus $244m a year ago, down 36 per cent.
Without the distraction of storage, Symantec expects the security portfolio to benefit - but what it also means is there'll be nowhere for execs to hide if the plan doesn't pay off. ®
Sponsored: Minds Mastering Machines - Call for papers now open