Mega-reseller CDW's Q3: It turned over $54.7m. That's per day
US parent of Kelway owner doing just fine thanks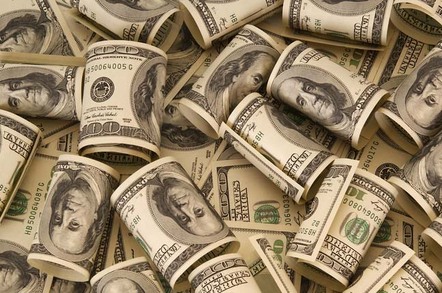 Sales steamroller CDW - the US parent of Brit reseller Kelway - turned over $54.7m worth of tech products and services on a daily basis in calendar Q3 ended September.
Read that again people, $54.7m. This is more than the vast majority of local tech suppliers across Blighty generate all year.
Titan CDW - the world's largest reseller - acquired Kelway for $431m early in the summer, and the UK firm contributed two months of revenue to its new parent, equating to $138m for the quarter.
Total sales across the group were up 7.2 per cent year-on-year to $3.5bn, but excluding the acquisition, the rise was up at a more modest 2.6 per cent.
The Corporate segment reported revenues of $1.72bn, up 6.3 per cent, Public Sector was flat at $1.468bn and the Advanced Business, which includes Kelway, grew to $308.5m, up $133.9m. CDW initially acquired 35 per cent of Kelway shares in November last year, so already benefited from some trade that boosted its top line.
CEO Tom Richards, said in a conference call it has "moved full steam ahead building our integration plans" with London-based Kelway.
The trans-Atlantic alliance between the pair started years back to service their respective international customers in each territory.
Richards said it continues to work on joint projects to "gain share of wallet" with specific global customers. The latest involves a global unified comms rollout to a US-based cosmetics, fragrance and personal care customer on both sides of the pond.
He said CDW-badged engineers and project management are addressing design, configuration and cutover for the deployment. Kelway is running on site task of rack and stack, training and support.
The performance of Kelway was "in line with expectations", the CEO said, even though UK staff working for the firm generate on average $900k per year and CDW staff some two times that. The margin profile of both businesses is similar though, because Kelway sells more services "that drives the bottom line".
Gross profit for the quarter was $567.2m versus $507.3m, up 11.8 per cent. Gross profit margin was 16.2 per cent compared to 15.5 per cent "primarily reflecting" growing services contract revenues and higher vendor partner funding, CDW said.
Selling, admin and ad expenses were $362.6m versus $322.6m, up 12.4 per cent, "driven by incremental Kelway expenses, higher sales compensation and higher marketing and add investments".
Operating profit came in at $204.6m versus $184.7m, and after tax/ interest repayments, net profit was $150.9m compared to $55.6m.
The entire company closed the quarter with a staff base numbering headcount 8,269 compared to 7,242 a year ago. ®
Sponsored: Minds Mastering Machines - Call for papers now open