Music lovers move to block Phil Collins' rebirth
'There is far too much suffering in the world as it is'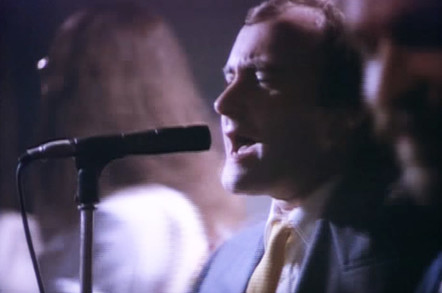 Concerned music lovers are backing a petition aimed at preventing Phil Collins' musical rebirth.
The former Genesis drummer and famed solo artist stepped out of the limelight in 2011, intending to spend more time with his family. However, he announced last month he was planning a new album. He told Rolling Stone: "I'm no longer officially retired. The horse is out of the stable and I'm raring to go."
This prompted one concerned citizen to attempt to shut the stable door before the easy-listening horse can bolt. In requesting United Nations intervention, the Change.org petition states: "There is far too much suffering in the world as it is. This must be stopped."
Speaking for a generation traumatised by works such as 1985's No Jacket Required, petition backer "Terrified 80s Kid" said: "Su sudio [sic] ruined my childhood...just say no to gated reverb!!!"
Here's the official vid for Sussudio. Judge for yourselves if it is indeed advisable for the UN to step in before irreparable cultural damage is done...
®
Sponsored: Beyond the Data Frontier