Volkswagen: 800,000 of our cars may have cheated in CO2 tests
After the NO bombshells, here comes a carbon dioxide scandal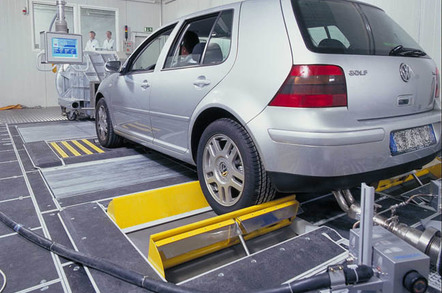 Volkswagen says it has found "unexplained inconsistencies" in carbon dioxide emission tests affecting 800,000 of its vehicles.
The automaker fears the CO2 test oddness could cost it about 2bn euros ($2.19bn) to put right.
VW is already in deep trouble after its diesel engines were programmed to lower their nitrogen oxide (NO) output during lab tests to conform to environmental standards. After leaving the labs, the cars would ramp up their performance, pumping out up to nine times the allowed amount of NO, a gas that causes respiratory problems with humans.
That cheatware scandal affects 11 million or more cars – now Volkswagen says an internal probe has uncovered 800,000 vehicles that emit unexpected levels of carbon dioxide, which is a greenhouse gas.
"VW's top management will immediately start a dialogue with responsible authorities regarding the consequences of these findings," the biz said in a statement.
"During the course of internal investigations, unexplained inconsistencies were found when determining Type Approval CO2 levels. Based on present knowledge around 800,000 vehicles from the Volkswagen Group are affected.
"The board deeply regrets this situation and wishes to underscore its determination to systematically continue along the present path of clarification and transparency."
The exact models embroiled in today's CO2 bombshell were not named, although most of them have diesel engines, according to VW. The rest have petrol engines. ®