Kevin Spacey becomes pitch-hound for Swiss security bods
Security's a house of cards anyway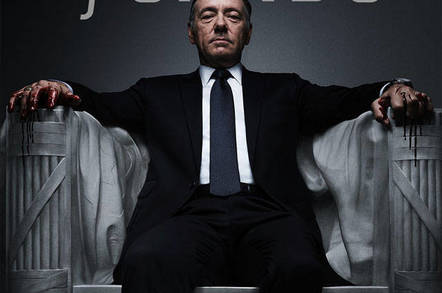 Low-key WISeKey, a Swiss outfit that's bubbled along since 1999, has decided it wants to be high-profile and has hired Kevin Spacey to do the job for it.
The company produces a variety of security products including personal, SSL and PDF-signing certificates, a password manager, voice encryption for smartphones and other stuff.
However, while it's managed to score a deal with Swisscom to build a personal cloud product, it's clearly miffed that it's not a household name.
Kevin Spacey, on the other hand, is a household name, at least where people remake UK dramas for US TV, where men stare at goats, or reckon a Lex Luthor-versus-Superman can offer dramatic tension – so he's been tapped to give WISeKey some profile.
Spacey's job will be to convince Americans that their personal cybersecurity isn't up to scratch – an obvious statement, given that anybody with a botnet and a badly-spelled e-mail can expect a phishing campaign to drag in a new bunch of suckers.
He'll be pitching the company's WiseID (secured online storage with your own X.509 certificate and apps for Windows, OS X, iOS, Android and Kindle), and its cloud app, according to the company's media release.
It probably makes sense: the Spacey persona freshest in the public mind is Frank Underwood in House of Cards, and he's sufficient to make anyone feel insecure.
Which moves El Reg to wonder: which other stars should be recruited into the job of pitching IT to the world instead of cars or credit cards, and which products should they stand behind? Suggestions in the comments, please. ®