Now VW air-pollution cheatware 'found in Audis and Porsches'
Vorsprung durch cheating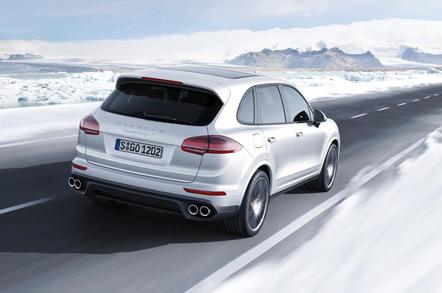 More Volkswagen cars have been found fitted with devices that cheat on air-pollution standards tests: the US Environmental Protection Agency says similar gadgets are installed in some Audi and Porsche models.
Diesel engine hardware programmed to conform to emission limits only within lab tests have been spotted in the 3-litre 2014 VW Touareg, the 2015 Porsche Cayenne, and the 2016 Audi A6 Quattro, A7 Quattro, A8, A8L, and Q5, the EPA reports. The agency is now looking at other VW-owned brands to determine the extent of the fraud.
"VW has once again failed its obligation to comply with the law that protects clean air for all Americans," said Cynthia Giles, assistant administrator for the EPA's Office of Enforcement and Compliance Assurance.
"All companies should be playing by the same rules. EPA, with our state and federal partners, will continue to investigate these serious matters, to secure the benefits of the Clean Air Act, ensure a level playing field for responsible businesses, and ensure consumers get the environmental performance they expect."
According to an open letter [PDF] from the EPA, the devices run on software in the engine management system that detects when a federal emissions test is occurring and alters the engine timing, exhaust gas recirculation rate, and the fuel pressure to slash the amount of nitrogen oxide produced, at a cost to fuel efficiency.
Within one second of the test ending, the management system switches the car from "transition to normal mode," the EPA states, and ends temperature management in the engine. The "normal mode" pumps out up to nine times the allowed amount of nitrogen oxide, a gas which causes respiratory problems with humans.
"These tests have raised serious concerns about the presence of defeat devices on additional VW, Audi, and Porsche vehicles," said Richard Corey, executive officer of the California Air Resources Board (ARB).
"Today we are requiring VW Group to address these issues. This is a very serious public health matter. ARB and EPA will continue to conduct a rigorous investigation that includes testing more vehicles until all of the facts are out in the open."
Volkswagen has already set aside $7bn to pay for fines and alterations to its cheating 2.0-liter engines, and will now have to increase that amount considerably. While it hasn't sold as many Porsches and Audis as its more mass-market VW diesels, purchasers at the luxury end are going to be more likely to sue the firm for lying about specifications and harming the resale value of the vehicles.
The EPA is clear that Volkswagen did know about the devices, or should have known, but so far the German car conglomerate is claiming ignorance, saying the work appears to be down to a few bad apples taking matters into their own hands. ®