In-a-spin Home Sec: 'We won't be rifling through people's web history'
Theresa May claims draft bill will have robust oversight, judicial approval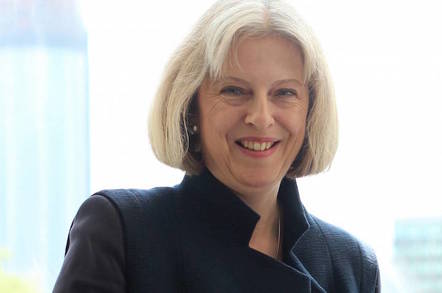 IPB The Tory government's draft Investigatory Powers Bill is expected to land in Parliament with a thud on Wednesday.
However, over the weekend, Home Secretary Theresa May once again rejected claims that the latest attempt to legislate to massively ramp up surveillance of Brits' online activity would lead to authorities being able to "go through people's browsing history."
In an interview with the BBC on Sunday, May claimed that the proposed law, which comes three years after the previous Coalition government ditched the widely-derided draft Communications Data Bill – dubbed a Snoopers' Charter – was less contentious.
However, it's worth noting that the Home Sec said this just days before the draft bill is to be published in the Palace of Westminster. The spin in the Tory camp, alongside GCHQ's huge PR splash in The Times, has been dizzying. Come Wednesday, world+dog will be able to pore over the IPB to see how far-reaching those proposed surveillance powers will in fact go.
Only then can the debate truly begin.
[The IPB] is quite different from the Draft Communications Data Bill in a number of ways," May said on the Beeb's Andrew Marr Show.
"It doesn't have some of the more contentious powers that were in that bill. So, for example, we won't be requiring communication service providers from the UK to store third party data, we won't be making the same requirements in relation to data retention on overseas CSPs [such as Facebook, Google, et al]."
She added: "And crucially ... we will not be giving powers to go through people's browsing history. That is not what the investigatory powers bill is about."
May claimed that her forthcoming draft legislation would come with "world leading oversight arrangements". She said the proposed law would be "clearer and more comprehensive and comprehensible" than the previous Snoopers' Charter – which was mothballed three years ago by then-junior Coalition partner the Lib Dems.
On encryption, May returned a number of times to granting cops and spooks "proper authorisation to issue warrants."
She told Marr: "We're not banning encryption ... encryption is important for people to be able to keep themselves safe when they're dealing with modern communications in the digital age."
The Home Sec was seemingly unwilling, however, to go into detail about the judicial approval process.
Meanwhile, government sources have been furiously briefing Britain's national newspapers in the run up to the draft bill's imminent publication. According to those Whitehall insiders, judges will be given the power to "hold the agencies and law enforcement to account" only in exceptional cases after ministers have issued warrants.
We're told that those judges will step in as a secondary measure if the snooping powers demanded are considered overly intrusive – who determines this remains unclear, however.
Could this include requests to access a Brit netizen's email messages, for example? It's not yet clear.
Tory backbencher and privacy campaigner David Davis warned that such arrangements on the domestic spying front "could be just another limp oversight arrangement." ®