Whitman's split: The end of Fiorina's HP grand expansion era
Let's start at the very beginning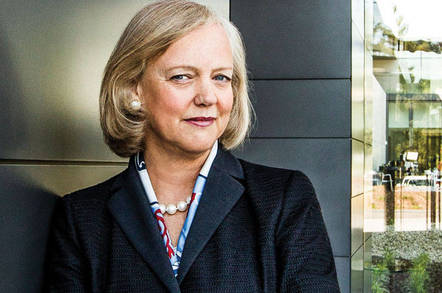 Hewlett Packard became two companies on 1 November, splitting enterprise from consumer.
Founded by David Packard and William Hewlett, number one in PCs and in servers, one the granddaddies of Silicon Valley, the massive corporation has undergone a massive change.
Personal computers and printers have now been set adrift onto their own growth-challenged waters as HP Inc while Hewlett Packard Enterprise (HPE) takes servers, storage, software and cloud.
HP Enterprise is not, of course, selling you these products as products – it's selling them as solutions.
HPE is therefore talking about infrastructure, mobile, security data and collaboration.
In a sign of what was to come, HP has been selling Windows 10 and Internet Explorer migration services since June.
HP Enterprise is now working with specialists in an attempt to own every part of the Windows 10 PC migration business in accounts.
Like its one-time great PC sparring partner, Dell, HP has determined survival comes not from shifting boxes but from being aspirational.
The split was the last fissure in the history of a company whose management either authored or sanctioned major strategies that began with Carly Fiorina.
Along the way, massive job cuts have become a fact of life at HP, with the company shedding tens of thousands in an effort to save money or chart a new course.
What's different this time, however, is that for once this is not a continuation of the policy of seeking radical and bold expansion into ever more diversified areas.
It is the opposite, and it's the death of the strategy that actually started in 1999 under former top exec Fiorina.
Fiorina replaced Lew Platt in 1999. Platt was in charge during the 1980s and '90s PC boom, at the height of the dot-com era with a powerful mandate to grow.
At HP's helm, Fiorina oversaw what was then the industry's biggest ever acquisition - buying Compaq for $25bn. She boasted that her super-merged company offered everything from cameras to Unix servers.
Compaq and HP would create an "$87 billion global technology leader," Fiorina said.
It was the birth of one-stop HP, creating "the industry's most complete set of IT products and services for both businesses and consumers.
"The combined company will have #1 worldwide revenue positions in servers, access devices (PCs and hand-helds) and imaging and printing, as well as leading revenue positions in IT services, storage and management software," Fiorina said at the time.
But the merger failed to deliver. Compaq got lost in HP and Fiorina proved a firebrand for HP's board while being hated by employees. The board brought in unknown Mark Hurd, formerly of NCR, to re-introduce stability and boringness.
But the mission to keep diversifying HP continued and Hurd sanctioned the $13.9bn purchase of services firm EDS, number-two to IBM's Global Services, in 2008.
"The combination of HP and EDS will create a leading force in global IT services," Hurd predicted.
It was about this time, too, that PC sales crashed – with the global economy with the rise of tablet computing thumping home the nails.
Analysts' forecasts of PC sales, both consumer and enterprise, have repeatedly predicted a return to growth but have had to restate their results time after time.
Hurd left under the cloud of scandal and his successor saw the first major strategic rift – Leo Apotheker was hired in September 2010, and promptly proposed turning HP in to a software company, soon introducing the radical idea of spinning off the PC business.
This was too much for the board and investors, and Apotheker was gone within a year, with former eBay CEO Meg Whitman hired in 2011.
It therefore fell to Whitman to captain HP and act as turnaround chief.
However, while there has been encouraging signs of growth there's been nothing sustained or significant for HP.
A plan resurrected
It was therefore in October 2014 she did the once-unthinkable: she dusted off Apotheker's plan to lose the weight of the PC business and set the enterprise products free.
As Winston Churchill might have said, the split between computers and printers and enterprise is not the end for HP – rather it's the end of the beginning. Only it's not quite that straightforward.
Even within recent history, in the run-up to the split, the new "stuff" hasn't exactly been working out well for HP.
The Helion public cloud, running on OpenStack, was shelved. Helion was to have cast HP as the service provider for SMEs and enterprises floating their compute.
The talent brought in to supposedly drive Helion, entrepreneur king Marten Mickos and former Microsoft general manager Bill Hilf, have been tossed about by the corporate winds of HP that have claimed others. Hilf remains but Mickos' role changed, with reports, we hear, of his not fitting in with the corporate style of HP.
HP is the last of Silicon Valley's corporate giants; it outlived Sun Microsystems – a mortal rival.
But it has proved slower-footed at change than its peers IBM and Dell while it attempts to haul itself clear of the malaise that has pulled down PC and enterprise spend.
IBM and Dell took radical action much earlier – the former selling almost all its server and its entire PC business. The goal is to become a cloud-service provider.
Dell canned its own cloud years back, preferring to sell blueprints and "solutions" around its hardware and software – selling pickaxes to the miners rather than actually prospecting for gold.
Dell also removed itself from the gaze of public scrutiny as it tried to re-invent itself out of PCs by going private.
Meanwhile, enterprise infrastructure is under unprecedented pressure to change, with the shift to cloud presented by Amazon and slowly, Microsoft on cloud.
The theory is "the tale of two HPs" is a part of Whitman's turnaround plan to create more focused firms that are able to respond more quickly to changing conditions. HPE claims it's a $56bn company with 252,000 staff.
But with the same old competitive realities still there and HP struggling to find growth, this is not the end, nor – really – the beginning of the end. It's the start of the beginning. ®
Sponsored: Webcast: Why you need managed detection and response