Seagate's suffering from mighty profit droop syndrome
It's a head-scratcher alright. Time for change?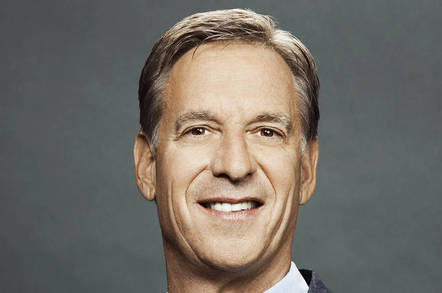 Major droop alert: as per its preliminary warning, Seagate's revenues and profits tumbled on the annual compare.
Revenues of $2.9bn in its first fiscal 2016 quarter were 23 per cent down on the $3.79bn reported a year ago while the $34m profit was a whacking great 91 per cent lower than the $381m recorded a year ago.
That small profit was reported despite a reduction in total operating expense from $3.3bn a year ago to $2.84bn; good work there. Something went wrong.
CEO and chairman Steve Luckzo fingered enterprise disk drive demand, the on-premises array market: "Lower than planned nearline enterprise demand temporarily impacted our financial results."
As this is the fourth quarter in a row showing sequential or annual revenue declines, and the third in a row showing profit droop syndrome, we must have had a string of temporary events.
Looking ahead Lukzo sees scope for better revenues; "We are pleased with the momentum we have across our products, which will be further supported by the newly acquired assets of Dot Hill and our ability to now completely integrate the Samsung hard drive business."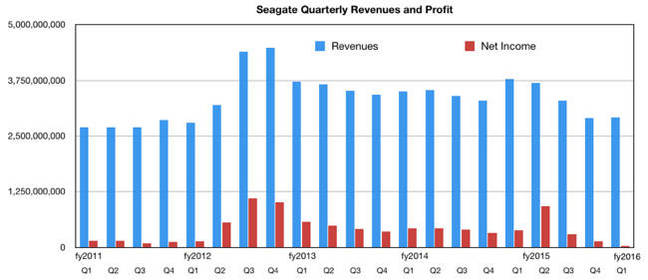 Click chart to embiggenise it
A year ago Seagate shipped 59.5m drives. This quarter it only managed 47.2m, 21 per cent fewer. On Wednesday Western Digital reported shipping 51.7 million. Stifel Nicolaus MD Aaron Rakers writes that Seagate lost nearline disk drive market share to Western Digital. He also points out that Seagate's average selling price for its drives was $58 versus $60 in the prior and year ago quarters. Oops, that must have hurt.
Here's a chart showing Seagate HDD segment splits over the past few quarters.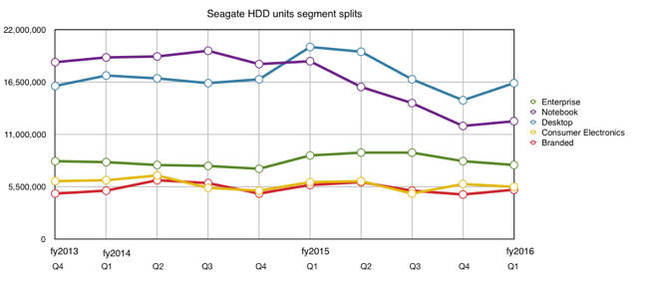 Seagate disk drive units market segment split over the past few quarters.
Desktop and notebook-class drives showed a sequential pick-up this quarter but enterprise was down.
A chart of the two supplier's quarterly revenues shows a widening gap as Seagate revenues fall further while WD's rise (sequentially);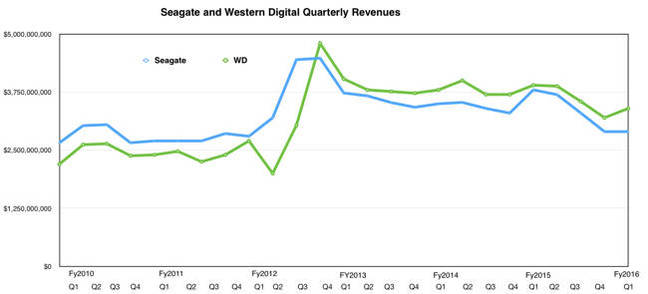 Seagate versus Western Digital quarterly revenues normalised to Seagate's financial quarters.
The judgement from this chart and from recent acquisition events – SanDisk for Western Digital and Dot Hill for Seagate – is that Western Digital CEO Steve Milligan is doing a better job than Seagate's Steve Luczo. The Seagate boss has been in charge for almost seven years, taking the reins in January 2009. Is it time for a change? ®
Sponsored: Minds Mastering Machines - Call for papers now open