Insert headline here for Microsoft Office tweaks
A round-up of new tools and tricks for Chrome, Skype, Android and Visual Basic fans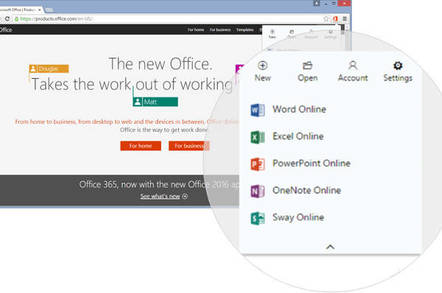 Just in time for a weekend that can't come soon enough, Microsoft has rolled out a handful of features for Office on Windows and OS X.
The update includes browser plug-ins and increased support for Microsoft's Skype and Visual Basic, as well as a lower storage requirement for Office on Android. Here are some of the new features in brief:
Office Online for Chrome will now allow users running the rival Google browser to create new files via the Office Online feature. The files can then be accessed via OneDrive and edited through the installed Office or through the browser plug-ins. While Chrome has previously supported Office Online, the extension will add icons to quickly access and create new documents in the browser. The extension has been posted to the Chrome Web Store.
Skype integration has also been added to Office Online. Previously only available for installed Office software, the Skype compatibility will now extend to the browser version, letting users access contacts and make Skype calls while editing documents in the browser.
Other Office Online browser updates include a navigation pane view option and faster performance for Excel Online spreadsheets.
Office for Android will now take up less storage space. Redmond said it had reduced the storage requirements of the Android suite by 40 per cent and added compliance with Android M and Android for Work.
Visual Basic support on Office 2016 for Mac will allow OS X users to use new Visual Basic commands within Office, including the ability to grant access to multiple files, integrate with AppleScript commands, and add Visual Basic modules from the Project Viewer screen.
One notable part of the update Microsoft failed to mention is the lack of any features for its Edge browser. The planned successor to IE does not yet support any add-ons and apparently will not do so until at least early next year. ®