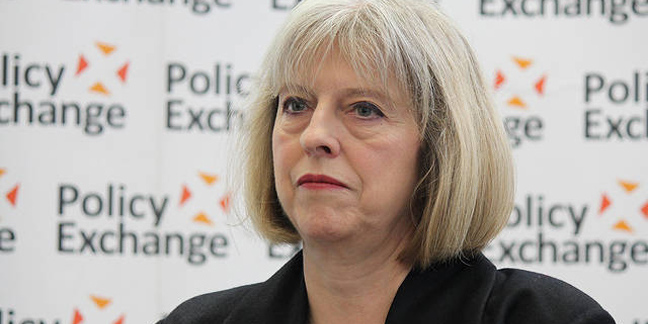 IPB Under the UK's forthcoming Investigatory Powers Bill, warrants required to justify the intelligence services' snooping will continue to be signed by those in government – and not by independent judges – in spite of recommendations by an independent review into Blighty's counter-terrorism legislation.
Following from a consultation with Britain's Attorney General, Jeremy Wright, the Home Secretary is set to turn down recommendations that judges, and not ministers, take responsibility for signing the spooks' warrants, when the son of the Snoopers' Charter - the Investigatory Powers Bill - is published in draft form next week.
The Sun reported that a government minister claimed "the Attorney General's advice was very clear. It would be totally irresponsible of government to allow the legal system to dictate to us on matters as important as terrorism. Not only would they tie things in knots very quickly, but they are not elected and answerable to nobody."
The current Home Secretary, Theresa May, will reveal details of the Investigatory Powers Bill next week when a draft version is published for consultation.
The Sun suggested that May will provide a compromise to those who have advocated for more oversight of spooks' surveillance powers in suggesting that "judges could review warrants retrospectively after they have been signed off", however such reviews are already part of the existing oversight procedures which the Independent Review of Terrorism Legislation recommended be updated.
David Anderson QC, who completed his review in June, offered support for the collection of communications data. The report also recommended, however, that: "Each intrusive power must be shown to be necessary, clearly spelled out in law, limited in accordance with human rights standards and subject to demanding and visible safeguards."
An internal GCHQ document published by the Intercept in September suggested that politicians were largely ineffective in providing oversight of mass-collection of communications data the spooks engage in, while judicial oversight as "THE MAIN ISSUE FOR US" by GCHQ.
Judicial oversight is currently applied to interception activities through the ex post facto audit and review function of both the Interception of Communications Commissioner and the Intelligence Services Commissioner regarding warrants signed by secretaries of state under Parts 1 and 2 of RIPA respectively. It is not yet known how this would differ from the Home Secretary's alleged intentions to allow judges to "review warrants retrospectively after they have been signed off".
David Davis, the Conservative MP for Haltemprice and Howden, told the Sun that Theresa May's plans were "a mistake". Davis, alongside Labour MP Tom Watson, succesfully challenged the Government's Data Retention and Investigatory Powers Act (DRIPA) in the High Court. The primary legislation, which was rushed through Parliament on "emergency" pretexts, was found to be unlawful.
We will remain the only one of all the five eye ally countries – the US, Canada, Australia and New Zealand – who won't have judges' sign off.

Not only is it more appropriate, it is also a far better use of the Home Secretary's time. If she is having to sign off 10 warrants a day, she can't possibly do it with the proper scrutiny needed.
Talking to The Register, the executive director of the Open Rights Group (ORG) Jim Killock noted that "the main reason to keep ministerial warrants is to avoid external scrutiny. That's how we got into this mess. This change would be one way to start to re-establish the credibility of the legal framework around UK surveillance, although it would not by itself restrain GCHQ's vast programmes of data harvesting."
Speaking today at the Parliament and Internet Conference, Andrew Gould, deputy head of the Met's cyber crime and fraud team (FALCON), spoke of his distaste for the term Snoopers' Charter – first used in 1965 in parliament and then later adopted for the current spy power push – which he said he found "offensive", and the debate regarding state surveillance activities in the UK which he found "patronising".
Gould's comments follow those of Andrew Parker, the director-general of the Security Service (formerly MI5), who called for a "mature debate" on interception powers – that is a debate which did not feature allegations of mass surveillance – as the UK approaches the publication of the draft Investigatory Powers Bill next week. ®
Sponsored: Ransomware has gone nuclear