Make room, Cisco's punters flocking to ACI ... yep, all 150 of them
Choosing ACI or NSX a 'strategic network decision' – analyst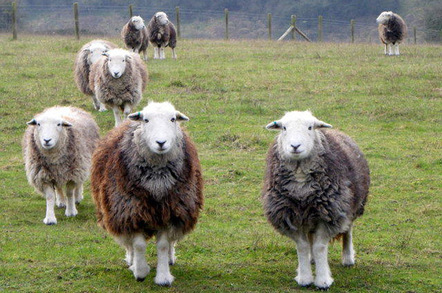 Canalys Channels Forum One hundred and fifty customers across the globe have taken a seat on Cisco's Application-Centric Infrastructure bandwagon that started rolling 15 months ago, we can reveal.
ACI – Cisco's answer to software-defined networking – is a programmable Ethernet Fabric that couples software and hardware. The product was initially developed by Insieme, a Cisco "spin-in" company led by top endgineers Mario Mazzola, Luca Cafiero and Prem Jain and subsequently acquired by their benefactor.
The Cisco software is pegged to a line of switches that offer admins more control over their network, but which also locks them into the vendor's hardware.
The company told us it has 1,000 ACI customers globally with 150 "in production" – meaning they've moved beyond the testing stage. But with a huge installed base out there, the numbers don't seem much to brag about, and lesser publications may suggest that this suits Cisco just fine.
SDN threatens to eat into margins and reduce the value of Cisco's proprietary switches. It was previously estimated there are $35bn worth of ageing Catalyst 6500 series switches in the wild.
Milo Schacher, Cisco veep of the EMEA & Russia partner organization, said the company has "250 customers" on its modified version of SDN.
"I haven't seen any competitors get close to that number," he told us.
Cisco did not go public on the proportion of European punters that are still in the beta phase, and did not name customers in the region. Schacher claimed all bar one of the customers were lured to it by channel partners.
"We go and look for a friendly customer, build the practice, do a technology blueprint, and then scale it through the channel," he said.
VMware, which began shipping its rival NSX software – a network overlay – some ten to 12 months before Cisco ACI, has 700 customers testing the product, including 100 in production.
Gartner analyst Andrew Lerner claimed that for customers, choosing ACI or NSX is a "strategic network decision, and is way beyond just a networking thing".
He said there is also the option to run both together, "as VMware NSX can run over any hardware, [so] it is technically feasible to combine it with Cisco ACI."
"However, deploying both solutions together will be prohibitively expensive for most enterprises," he added.
Mainstream SDN deployments are "five years away", said Marcus Jewell, EMEA boss at Brocade, the storage and data networking,vendor and "if this is a ten-step programme then only step two or maybe three can be delivered today."
"Customers and the channel aren't generally comfortable talking about SDN because it [represents] another level of complexity," he told us.
The pressure is on the big brands to show a way forward for SDN with customers wanting to drive efficiency in the network, and white box rivals in the Far East serving up cut-price switches that threaten to derail networking in the some way they have in servers. ®