China tells local cloud storage vaults to name suspected pirates
Middle Kingdom set to bin one-child policy in new five year plan spruiked by weird video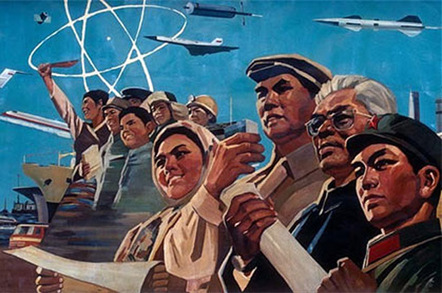 China's has issued strong advice to local cloud storage operators that they need to stop hosting copyrighted material.
The National Copyright Administration has told local companies they must not just follow copyright laws, but implement technological and human-operated processes to identify and remove copyrighted works and also prevent material being uploaded.
The statement also calls for cloud storage operators to build systems that can detect odd-looking upload or download patterns and shut down user accounts when such activity is detected. It also calls for storage clouds to record comprehensive information about users and, if copyright infringement is suspected, pass those details to the relevant authorities.
China being China, local cloud operators and citizens will need to take this edict seriously or face unpleasant consequences.
Chinese citizens can, however, look forward to one significant change in their daily lives in the form of a likely change to the nation's one-child-per-family policy in the Five Year Plan to take effect from 2016. That plan's currently being debated in a plenary session that China decided to promote to the world with the decidedly odd video below.
Allowing Chinese couples to have two children is an economic stimulus measure and China has decided it needs plenty more such initiatives as its manufacturing-driven growth softens and services industries rise. Chinas also outlined an "Internet Plus" plan under which it will go cloudy as a way of improving the efficiency of all industries. ®
Sponsored: Becoming a Pragmatic Security Leader