Trio nailed in US for smuggling $30m of microchips into Russia
Military-grade electronics shipped to the Motherland, breaking export rules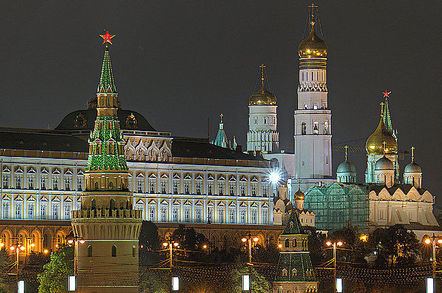 Two men and a woman have been found guilty in the US of illegally peddling electronics to Russian military and spies.
The trio worked at Arc Electronics in Houston, Texas, which was a front for an operation that moved more than $30m in microchips overseas against Uncle Sam's export and arms laws.
Arc masqueraded as a traffic light hardware maker, when really it was acquiring electronic components and funneling them to the Kremlin.
On Monday this week, Alexander Posobilov, Shavkat Abdullaev, and Anastasia Diatlova were convicted by a district court in New York after a month-long trial. They were arrested and charged back in October 2012.
"These defendants were key players in a sprawling scheme to illegally export sophisticated technology to Russia," said US attorney Robert Capers in a statement today.
"Through lies and deceit, the defendants and their co-conspirators sold over $30m of microchips, much of which was destined for Russian military and intelligence agencies."
Posobilov, Abdullaev, and Diatlova were found guilty on charges including conspiracy and violations of US export laws. Posobilov was also convicted of money laundering. Each could face up to 20 years behind bars.
Five others, including Arc owner Alexander Fishenko, previously pleaded guilty to export law charges.
The court heard that the hardware Arc moved out of the US illegally had a number of military and government uses, including surveillance systems, radar stations, weapons guidance systems, and detonation triggers for explosives.
According to prosecutors:
The evidence at trial established that between approximately October 2008 and October 2012, these defendants and their co-conspirators obtained advanced, technologically cutting-edge microelectronics from manufacturers and suppliers located within the United States and exported those high-tech goods to Russia, while carefully evading the government licensing system set up to control such exports.

The microelectronics shipped to Russia included analog-to-digital converters, static random access memory chips, microcontrollers and microprocessors. These commodities have applications, and are frequently used, in a wide range of military systems, including radar and surveillance systems, missile guidance systems and detonation triggers. Russia does not produce many of these sophisticated goods domestically.

Posobilov was the Procurement Director of Arc, Abduallev was the Shipping Manager and Diatlova was a salesperson.

Arc falsely claimed to be a traffic light manufacturer on its website. In fact, Arc manufactured no goods and operated exclusively as an exporter.
When the operation was uncovered three years ago, the Feds said Arc had been channeling restricted technology to Russia for four years already, selling the electronics to Russian procurement firms who then dealt to the military.
The US Department of Justice said Arc operated with its American suppliers claiming the hardware was being used for legal applications such as traffic lights, knowing full well its true destination would be uses prohibited by two US trade laws – the International Emergency Economic Powers Act and the Arms Export Control Act. ®