Would Dutch T-Mobile sale open door for Deutsche to buy KPN?
Meanwhile things heat up between Vodafone and Virgin Media UK daddy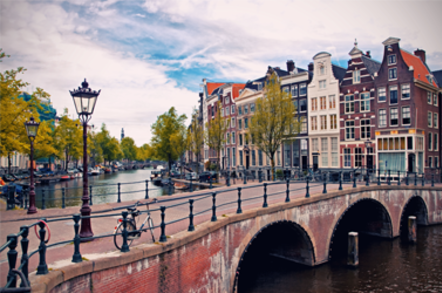 A simple statement this week leaked to Bloomberg that T-Mobile Netherlands is about to be put up for sale, uncovers a wealth of potential intent from all quarters. Immediately everyone is guessing who might buy it; our question is what does this allow to happen after that sale has gone through?
We have often given the opinion that poor old Dutch telco KPN is in such a poor state, one of the many "basket cases" of incumbent telcos around Europe, and the reason for this is the strength of cable, direct-to-home and rival mobile network operators in what is a very small and special territory.
It is "special" in the sense that it is a market where a population of 16.8 million wealth-conscious people are shoved into 41,500km2, and – as we are fond of pointing out – Wi-Fi access points per square kilometre are around 40 across the entire country and more like 120 in the major cities. So what the hell do people need cellular for anyway?
It is also special in the sense that the Netherlands was one of the first to suffer from saturation in OTT Voice in services such as WhatsApp, where KPN suffered a famous court reversal when it tried to block access to the over-the-top app.
While we have waxed lyrical about the price war in France in cellular and quad-play pricing, and portended the same for the UK, the Netherlands is already part of the way there. During the past year or so both Tele2, which has always been an MVNO of T-Mobile, and T-Mobile itself, have both accelerated deployment of LTE.
But this comes at a time when both Liberty Global and Vodafone have become active in quad-play – Liberty through an MVNO with Vodafone which uses Liberty's 1.5 million Wi-Fi hotspots across the Netherlands, offering a Wi-Fi First service, and Vodafone through network-sharing with KPN and its majority controlled Reggefiber, and fibre build-outs of its own. If it's competitive today, it is getting more competitive tomorrow.
Meanwhile, debt is rising across all mobile network operators (MNOs) in Europe as they take on the cost of the spectrum and build out costs of 4G. As part of mitigating that, Tele2 last year cut a tower and site-sharing deal with T-Mobile. Surely that should have cut the T-Mobile costs associated with the Netherlands? Tele2 in its latest figures dropped five per cent from its EBITDA, something it blamed on competition in the Netherlands.
T-Mobile Netherlands was originally obtained by Deutsche Telekom in an assets swap with France Telecom's Orange – selling French ISP assets for a Dutch MNO. Now by putting it up for sale, we think it is clearing the regulatory path to acquiring KPN – but that all depends on who it is sold to, and whether or not three strong operators (plus MVNO Tele2) can be sustained.
Who will buy my sweet T-Mobile?
The recent capex costs and failures at Tele2 likely put that company out of the picture from the point of view of being a buyer for T-Mobile Netherlands. Vodafone is the other major Dutch operator and is preparing launches across all four quad-play dimensions, to keep the balance of power vis-a-vis KPN and Liberty Global, so it can't bid. That leaves a private equity firm buying it as a place-holder for one of these others, or Liberty Global coming in now for the business. Private equity companies will note that there are few potential buyers down the line for even a tidied up entity, which is more profitable. It might eventually entice Orange or Telefonica back into the Dutch mix, but it may not, and Carlos Slim's America Movil, which put in a bid last year for KPN, is after bigger fish - or so we suspect.
The European Commission set the cat among the pigeons by allowing the deal for Liberty Global to buy rival cable operator Ziggo, unifying cable across the nation into a single network, with both having a strong Wi-Fi presence.
This put over 50 per cent broadband market share into one set of hands, and its weak position in mobile was all that was left to build a full function rival to KPN, for the good of consumers. Vodafone was always going to be the likely mobile partner for Liberty Global, both in the Netherlands and in most other countries it operates in, within Europe. However Vodafone set itself directly up against Liberty Global with its voracious hunger for fixed lines coverage, which resulted in its purchase of Kabel Deutschland, setting it directly against Liberty's Unity Media Kable BW operation, and again with its purchase of Ono, taking yet another target for expansion off the table for Liberty.
Relations between Vodafone and Liberty were further stretched when they could find no common ground for an asset swap – Vodafone wants Virgin Media in the UK, Liberty is not inclined to offer it.
The case for Liberty Global to have its own MNO instead of running as a virtual operator was finally made most strongly when in Belgium its Telenet subsidiary acquired cellco BASE from KPN. Telenet started out life as an MVNO and has now moved to full MNO ownership when that transaction completes. Who's to say that the same cannot happen in the Netherlands with Liberty Global buying control initially of T-Mobile Netherlands, and perhaps later relieve Tele2 of its underperforming asset, to bring the field of MNOs down to 3 once more. Would that mean that the European Commission blocks such a deal – we don't think so.
Going back to KPN, it has only just managed to turn its quarterly results around after slashing 2,000 jobs and yet still its revenues are off by 5 per cent, even if its margin is back on target. It is keeping investors happy by cost-cutting, not a long term plan in itself. Its Q3 results are out in a few days, but in Q2 it added 31,000 broadband subs and 64,000 IPTV customers and a mere 70,000 in mobile net adds. It's not enough.
Last year it sold its E-Plus German subsidiary and earlier this year (as noted above) its Belgium MNO operation. This converted as much of its base as possible into liquid assets and it is maintaining its dividend year to date as far as we can see.
If Deutsche Telekom had ever wanted to put in a counterbid when America Movil had bid for KPN (it went on to buy Austria Telekom) it would have probably had to sell E-Plus and BASE in Belgium in order to have its bid accepted at the European level. So it looks to us like this is what KPN has done – preparatory work to make its takeover by Deutsche Telekom feasible – in case it is required.
It is true that Deutsche Telekom also wants to pay down debt right now, because Europe-wide it is in the process of building 4G, so has high capex, but its debt-to-equity ratio is as good as it ever has been, so the case it not urgent, and its stated rationale is unlikely to be the real reason for this selloff.
Deutsche Telekom is supposedly working with Credit Suisse on the sale process at a preliminary stage, but we would be very surprised to see anyone other than Liberty Global looking all that hard at the asset.
Meanwhile in another "clearing up" of outstanding issues, KPN said that its BASE company, Mobistar (Orange in Belgium) and Belgacom's Proximus have agreed to settle all outstanding litigation between each other over some tariff issues, which will see €66m paid to BASE and €54m paid to Mobistar by Belgacom. Slowly Liberty Global seems set to become a grown-up member of Europe's MNOs, wielding Wi-Fi as its preferred weapon of choice, in a pricing war that will only make the Netherlands even more price-competitive.
Copyright © 2015, Faultline
Faultline is published by Rethink Research, a London-based publishing and consulting firm. This weekly newsletter is an assessment of the impact of the week's events in the world of digital media. Faultline is where media meets technology. Subscription details here.
Sponsored: How to get more from MicroStrategy by optimising your data stack