Snakes in the aircon, killer crocs in the river, virtualisation for apps
Life in Australia's tropical north offers Brit some new experiences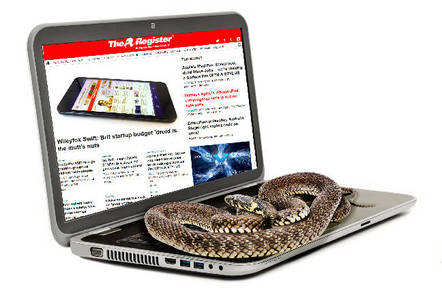 The eXpat Files Just over two years ago, your correspondent finished covering the 2013 World Solar Challenge, the solar car race between the Australian cities of Darwin and Adelaide.
We decided not to go again this year because twice is probably enough. But reader Scott Knights lives near Darwin, in a spot called Humpty Doo, and kindly sent us snaps of the cars passing through town.
Once we learned that 46-year-old Scott's an expat Brit, we had to ask for his story and not just because Humpty Doo has an excellent name. Humpty Doo's about 40km out of Darwin, the capital of Australia's Northern Territory (NT). Darwin's a frontier town with a culture to match and a slightly inflated reputation for danger that comes from occasionally having crocodiles stroll its streets.
Humpty Doo's the last big piece of built environment on the road south to Adelaide, at least until you hit Alice Springs more than 1,000km away. So how did virtualisation expert Scott wash up there? Read on, dear readers ...
Q: What kind of work do you do and with which technologies?
A: IT generalist, but with a focus on Microsoft terminal services. I do lots of work with Citrix XenApp and Dell (Quest) vWorkspace.
Q: Why did you decide to move to Australia?
A: My wife got a job with the Northern Territory government. I came along for the ride.
Q: How did you arrange your new gig?
A: When I knew we were moving over, I did a job search for "Citrix and Darwin."
The only hit was for the company I now work for.
At the time, they had just started the company after completing a management buyout of the local branch of a national company which had pulled out of the NT. They had a terrible website.
Nevertheless, I emailed them my CV and asked if they were interested. They interviewed me over the phone and told me I had a job when I arrived if I wanted it. I actually kept working for my UK employer for a while after first moving over, which worked very well as I could look after my young daughter during the day. My wife took over in the evening and I worked UK hours. Once my daughter started pre-school I switched to work for my Aussie employer.
Q: Pay: up or down?
A: Difficult to say due to the wildly varying exchange rate. Assuming about two dollars to the pound (which it was when we first moved over and is again now) salary is a bit higher, but so is the cost of living.
Q: How do workplaces differ between Australia and the UK?
A: Not too different, although we have a beer fridge here which gets opened on Friday afternoons. Never had that when working in the UK.
Q: Will working in the territory be good for your career?
A: Haven't really considered this, but any out of the ordinary experience should help. We are now Australian citizens and don't intend to move back to the UK. We may possibly consider moving to the East Coast [of Australia] at some point in the future, but no plans to move at the moment.
Q: I'm told that everyone in the Territory has a croc story. What's yours?
A: I haven't personally encountered a croc up close, but have been on a couple of jumping croc cruises and seen some of the 6m long monsters we get in the rivers here.
The nearest we have come to a croc is when we spent a few days at the Mary River wilderness resort. A few days after we got back somebody else staying there got drunk and decided it would be a good idea to swim across the river. He didn't come out again.
I do have a snake story though. Shortly after moving here, my daughter switched on the air conditioning and a snake fell out of it into the house. Not sure what it was, but I just worked on the assumption it was poisonous. I had to persuade it to leave the house using a broom.
Q: What's cheaper in the NT compared to home? What's more expensive?
A: Petrol is a cheaper. Pretty much everything else is more expensive. Travel is a big issue. To fly to almost anywhere apart from Bali or Singapore you have to go via Singapore or one of the major Aussie cities which makes overseas trips expensive.
Q: What do you miss about the UK?
A: Real ale, cod and chips, Indian food. Most beer sold here is lager chilled to the point where you can't taste it. Fish and chip shops think that Barramundi [a native white-fleshed fish – Ed] is a good fish to batter and serve with chips and while there is a good range of food here due to the very diverse ethnic mix, for some reason there are no decent Indian takeaways.
Q: The heat. How do you cope? Especially in the wet season?
A: The heat can be a bit oppressive when you are outside, but since it is 30˚C plus virtually every day of the year, everywhere has air conditioning. When you are indoors it isn't a problem. I actually felt more uncomfortable when I went back to the UK this summer. It was hot and many of the shops I went into didn't have air-conditioning which was worse than shopping in Darwin.
One thing we can do in the wet to keep cool (assuming no storms) is swim any time as the temperature doesn't drop much during the night. We have celebrated the last couple of New Year's Eves with champagne in the pool at midnight. Q: Why live in Humpty Doo? Not a huge commute, I suppose, and the stars look good at night. But not a bit too quiet?
A: Accident really. When we first moved over trying to find somewhere to rent in Darwin was difficult. Demand is high and so are rents. We would go to property viewings and there would be crowds of people there. Real estate agents didn't even bother replying to our applications.
We eventually found a helpful agent who specialised in rural properties and rented a place in Girraween near Humpty Doo. We liked the area, so when we ended the tenancy we bought a block and built a house. Commuting isn't too bad. I can usually make it into work in about 25 minutes. When I was in the UK and had to commute into York, it would take me twice as long to travel a third of the distance.
Q: Broadband. Can you get it? Or want it?
A: We currently have ADSL. The national broadband network here was originally supposed to be fibre to the premises, but was changed after the last election to fixed wireless.
This has now been implemented, but when I applied for it I was told there was no line of sight due to trees between my house and the mast. Not sure how much thought went into this since zoning rules for this area dictate two hectare blocks and planning rules state that we can't clear more than 1 hectare without obtaining planning permission.
The upshot of this is that most properties near me are surrounded by tall trees, making wireless a really stupid choice.
Q: What's it like living in a place where the vendors just don't have much of a presence? Can you get the attention and resources you need to stay on top of tech? Other than by reading El Reg?
A: Not a major issue in Darwin. The company I work for has partner relationships with several vendors including HP, Dell, EMC, VMWare and Citrix. They often send reps up to the NT who will drop by and give presentations to us when they are in the area. The biggest problem is getting support to our clients in remote areas and indigenous communities.
Q: What's your top tip to help new arrivals settle in to the top end?
A: Live the lifestyle. We would never even have considered owning such a large block of land or having a swimming pool while in the UK.
Q: What advice would you offer someone considering the same move?
A: The population here is transient and skilled workers are in short supply. If you have the skill set you will be able to get a well paid job. Get on the housing ladder as soon as you can due to the absurd rents charged here.
Q: What can one do on weekends in the top end that you could never do at home?
A: During the dry season there are events on every weekend. This includes things such as the deckchair cinema, the beer-can regatta [featuring boats made entirely of empty cans and bottles - Ed], Darwin Festival and the Greek Glenti. The Mindil beach sunset market is on every Sunday and Thursday during the dry season. This has live music, a wide range of food and craft stalls and is very popular with tourists. There are other markets on all year round. Parap market is a good place to go on a Saturday morning to pick up a Laksa.
Being used to the vagaries of UK summer weather it is nice to have about five months of virtually guaranteed rain free days with clear blue skies where you can plan to get out and about.
Fishing is massive here. If you are not into fishing, then Litchfield National Park is almost on your doorstep and Nitmiluk and Kakadu National Parks are only [! - Ed] a half day drive. If you want to go further afield, then you can head further down the Stuart Highway or across to the Kimberly in WA. There are some amazing places to visit if you have a 4WD.
If you are here on Territory day (1 July) you can legally set off personal fireworks, which is unique in Australia.
The wet season is not so great as it is extremely hot and humid and a lot of the roads in the national parks are inaccessible due to floods. A river trip down Nitmiluk Gorge is worth doing though as the water coming off the top of the gorge is impressive. We also get some epic thunderstorms here in the wet.
Q: A hypothetical Regreader lands in Humpty Doo on a Friday night and wants to spend the weekend in the area. How can they best keep themselves entertained?
A: To be honest, there isn't a huge amount to do in Humpty Doo to fill a weekend, so you might want to head into Darwin for the Mitchell street experience. Alternatively, hire a car, grab some camping gear and head out bush. If you want to stay in Humpty Doo then head to the Humpty Doo hotel and hang out with the locals.
Where have you moved for a change of scenery or career? Write to me and we may well give you a run in a future eXpat Files. ®
Sponsored: Practical tips for Office 365 tenant-to-tenant migration