'Cancer-causing bacon would put a real dampner on processed pig sales'
Plus: Vacuum giants blow hot air at one another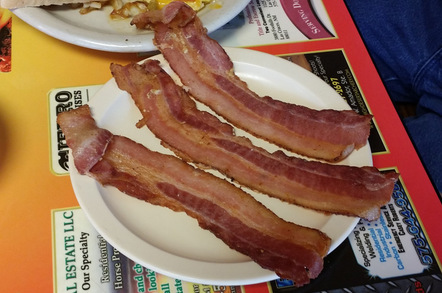 QuoTW This week, it was all about a CIA hack, a stock handout at Twitter and a tale of laid-off worker outrage.
Now, let's have a look at the quotes of the week:
The fatty sheen has been taken off the bacon sarnie with new research that tells us processed meats could be a cancer risk. In its report, the World Health Organisation noted the cautious advice of one Betsy Booren from the North American Meat Institute:
If they determine that red and processed meat causes cancer – and I think they will – that moniker will stick. It could take decades and billions of dollars to change that.
Yes, causing cancer really tends to be a drag on sales.
Disaster also struck budget Brit telco TalkTalk this week, as a mysterious outage turned to word of a possible hack on the company. Chris Oakley, a principal security consultant at Nettitude, offered a nice summary on the issue facing the company and its customers:
TalkTalk hasn't yet been able confirm whether there was strong encryption applied to cardholder data; this has got lots of tongues wagging about whether this information was suitably protected. It'll be a worry to the four million customers affected by this breach that they have yet to receive clarity on this point.
Home appliances aren't usually the place one looks for excitement, but things heated up on Tuesday when Dyson accused Bosch of fudging the numbers on its test results. The two companies traded barbs. Up first – Dyson:
Just like the testing regime for the diesel engines in cars, the European regulations state that vacuum cleaners should be tested in a laboratory without any attempt to replicate real-world conditions – which leads to misleading results.
To which Bosch hit back:
The values on the energy label therefore provide consumers with key performance features such as energy efficiency class or cleaning performance. BSH strenuously rejects the allegations of manipulation and reserves the right to take legal action if necessary.
Over in Washington DC, the controversial CISA law was once again being debated. Among those backing the law is Senator Diane Feinstein (D-CA). She offered the following thoughts on those who opposed her surveillance bill:
So it's hard for me to understand why we have companies like Apple and Google and Microsoft and others saying they can't support the bill at this time. You have no reason, because you don't have to do anything, but there are companies by the hundreds if not thousands that want to participate in this.
And now we turn to bad news from Microsoft. The latest quarterly reports from Redmond brought word of new job cuts. The software giant said:
The job reductions were spread across more than one business area and country and reflect adaptations to business needs. We go through this process in the most thoughtful manner possible, with the deepest respect for affected individuals.
Closing things out on a lighter note, early this week we found out that an ergonomic handgun for seniors had been approved in the US. The FDA has determined it won't consider the squeeze-gun a medical device on the following grounds:
The US Food and Drug Administration (FDA) has determined the Palm Pistol® is not a medical device under section 201(h) of the Federal Food, Drug and Cosmetic Act because it is not intended for use in the diagnosis of disease or other conditions, or in the cure, mitigation, treatment or prevention of disease in man.
But then, we guess "lead deficiency" isn't really a recognised health condition. Enjoy the rest of your weekend, dears. ®