It's all Me, Me, Me! in Doctor Who's The Woman Who Lived but what of Clara's fate?
Ahh yes, the hybrids have it
Kelly says:
We're edging closer to Clara's demise, aren't we?
There are always episodes in a full season of Doctor Who where either Clara, or indeed the Time Lord, are largely missing from the show. In case you wondered, this is less to do with the plot and more to do with the busy work schedule. Everyone needs a holiday, and so on.
So what better time to fill Clara's boots then with the appearance of Me (OK, OK, Ashildr – the "Patron Saint of the Doctor's leftovers"), then?
In The Woman Who Lived, we wind up in the year 1651 with the Doctor – equipped with his curio scanner – hunting for an alien object.
And by sheer coincidence (can we ever trust the Doctor not to have some kind of an agenda?) up pops Ashildr as a highwayman, cheekily played for laughs.
There is a darker side to this character too, though. She's willing to kill people to make her way through life, having been gifted with immortality by the Doctor in The Girl Who Died.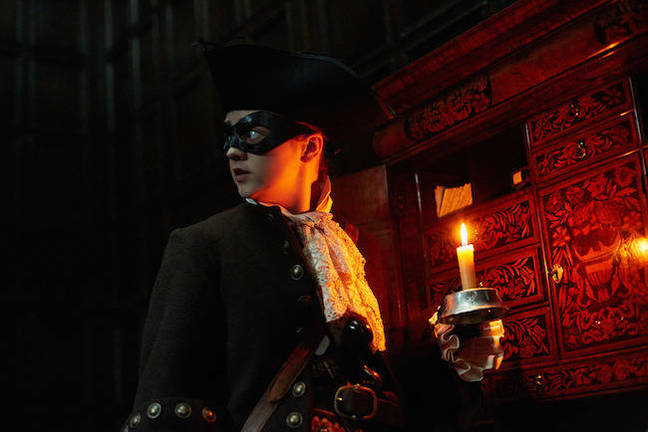 Doctor Who, Season 9 – The Woman Who Lived. Pic credit: BBC
We find Ashildr to be unhappy with her lot and complaining bitterly about an "infinite life and a normal-sized memory".
Like the Doctor, she's witnessed people she loves come and go.
Much of her anger is directed at the Doctor for being "the man who runs away." She tells him: "You didn't save my life, Doctor. You trapped me in it."
Before long we meet the baddie in this week's ep: an alien, fire-breathing, twisted, Wizard of Oz-style lion who wants to return home.
'I call myself Me ... Me as who I am now. No one's mother, daughter, wife. My own companion. Singular. Unattached. Alone.'
The warp in the storyline comes when Ashildr turns on the Doctor in an alliance with the wicked cat, in order that she can escape through a time portal from the many Centuries of Earth that are ahead of her.
Worse still, the writer on this week's ep irks the audience with some shocking gags, following the arrival of Sam Swift (played by comedian Rufus Hound).
We learn early on that Ashildr – who, least we forget, is yet another hybrid in this season of Doctor Who – never sought a companion, even though the Doctor (in yet another nod to his own sadness and solitude) had given her a spare immortality chip to prevent her being alone in her unending existence.
And it's that chip which eventually saves the day. Even if Ashildr will now live for an eternity with a bloke twice her age who delivers "well-hung" gags. I pity her, I really do.
But The Woman Who Lived fails to live up to The Girl Who Died. It's a weak episode wrapped around the theme of loss that merely serves as an amuse bouche for what's to come. The palate cleanser? Clara's exit, surely.
Clara may tell the Doctor at the end of the ep, "Don't worry, I'm not going anywhere," after he sees Ashildr lurking in the background of a photo of Ms Oswald. But his look of concern tells a very different story. Or is it just constipation? Next! ®