Dell's VMware-as-cell sell isn't going swell
Virtzilla's shares dip 20 per cent in one day on fears of future cloudtastrophe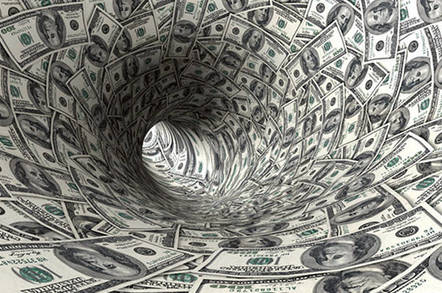 VMware yesterday posted a pretty set of numbers. And today its share price fell by twenty per cent, from Tuesday's US$68.97 to a Wednesday close of $55.38 after grazing $52.91.
The reason for the dip is widely held to be remarks during its earnings call about the secular move to cloud representing a wave that even VMware will struggle to surf comfortably. VMware has warned of troubles if only because the move to subscription services creates a nasty little financial current. If you buy an enterprise licence today, the vendor has the use of your money for a couple of years. When you subscribe, you send 24 chunks of cash over two years. VMware says the effect of that change and other cloud moves is equivalent to a three per cent growth hit.
Everyone in the software business has that problem and some present it as an improvement in unearned revenue. Microsoft, for example, has been talking up how customers on cloud contracts represent future revenue it's already won. For Microsoft, cloud works because someone who used to buy Office every five years and skip an upgrade or two may now pay for it every month over five years. VMware has lots of unearned revenue, but cloud doesn't quite offer it a similar way to get its customers onto a new type of payment treadmill. Cloud alternatives, meanwhile, make it harder to get licence renewals.
Observers have also long worried about whether VMware's public cloud, vCloud Air, can reach sustainable scale and help to fill in some of the nibbles that cloud produces elsewhere in Virtzilla's business. Wipeouts in cloud are eminently possible, as made obvious by HP's decision today to bail out of public cloud. vCloud Air seems to be growing, as does VMware's coterie of cloud partners offering compatible services. And we now know that cloud and SaaS accounts for six per cent of all VMware revenue, or about US$300m. That's ahead of other new VMware efforts like NSX. But a long way behind the likes of AWS and Azure, but we don't know how much of that six per cent is hybrid cloud and how much of it is SaaS versions of AirWatch. It's therefore hard to gauge whether VMware's doing well as a cloud provider.
The share price dip is also interpreted as reflecting uncertainty about how users will react to VMware becoming a limb of Dell. Michael Dell on Monday wrote that "it is very important to maintain VMware's successful business model supporting an open and independent ecosystem. We do not plan to do anything proprietary with VMware as regards Dell or EMC, nor place any limitations on VMware's ability to partner with any other company."
Which may miss the point because it's hard to know if other companies will want to partner with VMware once it's tied to Dell. EMC wasn't a broad threat to server vendors. Dell is. And Dell and VMware have both made it clear they see cross-selling as likely to shake out lots of cash.
Dell the Man added that "VMware will remain committed to its partners and making it easy for customers to use its products on any hardware or platform that they desire."
Easy like it's been with Nutanix, with which Virtzilla got into a support spat after it brought a hyperconverged competitor to market?
It's going to take months for EMC/Dell to close and months more before users know just how the new company behaves and if VMware really will remain at arm's length or beyond.
The Reg's virtualisation desk suspects rivals and users alike will spend that time considering alternative hypervisors and control freaks. Open source hypervisors are already mature. OpenStack is less so, but developers like it. And as VMware always points out, applications are what really matters. ®
Sponsored: Minds Mastering Machines - Call for papers now open