Anons blow Japanese airports off-course in dolphin cull protest
Flipper heck!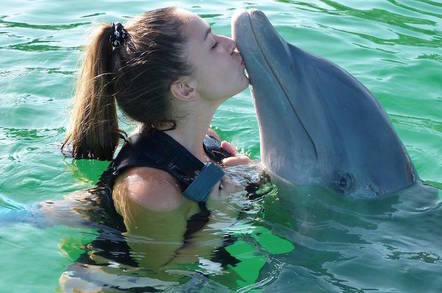 Hacktivist collective Anonymous knocked offline two of Japan's busiest websites in a protest against dolphin killings.
Distributed denial-of-service attacks against Tokyo's Narita airport and Nagoya's Chubu airport left each largely inaccessible for about eight hours. Flights at both airports were unaffected, the Japan Times reports.
Flooding the websites off the internet were part of an ongoing operation codenamed #OpKillingBay. Follow-up attacks were mounted against Japan's National Tourism Organization and the country's Fishermen's Union. The online presence of the town of Taiji, in the Japanese region of Wakayama, was among the first hit back in September. Taiji was made infamous by the 2005 documentary film The Cove as a place where dolphins were herded into a small bay before getting either killed or captured.
Taiji has been a center for dolphin hunting and whaling for hundreds of years.
The #OpKillingBay campaign began in November 2013 with a day of action before re-igniting again with fresh ferocity over recent weeks.
The #OpKillingBay and associated #OpSeaWorld exercises have expanded to include international organizations blamed for animal cruelty in general, such as the Sochi Aquarium in Russia over the alleged poaching of wild orcas. It also targets Iceland and France.
One Anon tweeted about plans to flood the websites of Narita and Chubu airports on October 9 shortly before the attacks hit in the early hours of October 10, Japanese police said at a weekend press conference. Narita airport near Tokyo became inaccessible for about eight hours from around 0230, the Japan Times reports. ®