Wait a minute, Doc! Are you telling me that you built a self-driving car ... out of a DeLorean!?
Great Scott, MARTY!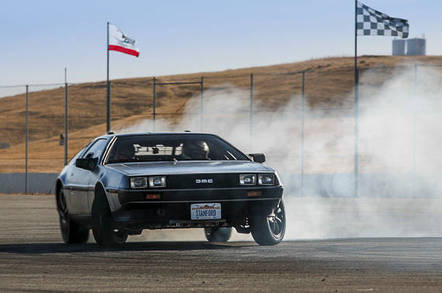 Vid Stanford University researchers have built an electric-powered self-driving DeLorean just in time for Back to the Future II day.
Dubbed Multiple Actuator Research Testbed for Yaw control, or MARTY for short, the tricked-out 1981 sportscar has been upgraded by the mechanical engineering department at the Silicon Valley feeder school.
Developed with electric carmaker Renovo, the MARTY car has an electric engine, autonomous driving computer system, a roll cage, a strengthened body frame, and upgraded steering systems.
The DeLorean's autonomous driving system has been specially designed to perform racing maneuvers such as drifting. In addition to teaching students in the Stanford Dynamic Design Lab (DDL) about autonomous vehicle development, MARTY will be used to research how those advanced driving techniques could be used to make self-driving cars safer on the road.
"The very best rally car drivers do this all this time, sacrificing stability so they can use all of the car's capabilities to avoid obstacles and negotiate tight turns at speed. Their confidence in their ability to control the car opens up new possibilities for the car's motion," said mechanical engineering professor Chris Gerdes.
"Current control systems designed to assist a human driver, however, don't allow this sort of maneuvering."
The name, of course, is no accident. The university decided to unveil MARTY one day before October 21, 2015, the "future" date on which the events in the 1985 sci-fi classic took place. Unlike the film's depiction, MARTY is unable to fly, but is able to perform stunts without the need for human guidance.
Bootsnote
Also looking to catch a piece of the Back to the Future II gravy train commemorative date, Nike has released a pair of shoes based on their own futuristic movie prop.
The Nike Mag 2015 sports the self-tightening laces shown in the film. It's been designed to automatically adjust its tightness and support based on the wearer's movements. A non-powered version of the shoe was released in 2011.
Nike said the self-lacing 2015 edition of the shoe will be offered next year only by auction, with proceeds going to the Michael J. Fox Foundation for Parkinson's Research. ®
Sponsored: What next after Netezza?