Dell traps Microsoft cloud in smaller box
Azure floats for the other 99%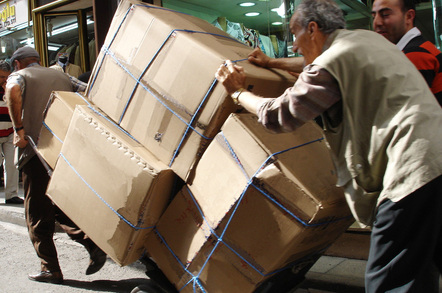 Dell is putting Microsoft's cloud in a smaller box for everybody outside the web-tier super league.
On Wednesday, the companies are expected to unveil Dell Hybrid Cloud System, with bridges into Microsoft's Azure and packed in a PowerEdge R730 rack server.
Wrapped in the hardware will be Microsoft's Azure Pack, System Center and Windows Server with service composer.
Among the Dell software offerings it's chucking in its Cloud Manager are the provisioning, configuration management, user governance and monitoring software it bought with Enstratius in 2013.
Powering the hardware will be a pair of switches, four nodes and 64TB of storage.
The system will run Linux and Windows as first-class citizens, with Dell claiming you could lay up to 400 virtual machines in the stack.
The companies reckoned the integration of hardware and software with the additional management software would let you set up a cloud in just three hours. Yep, that's three hours.
It's a step back from the Cloud Platform System powered by Dell, announced in October 2014.
The Dell Hybrid Cloud System will be sold and supported by Dell, with the PC purveyor offering flexible financing, and the offer to return the system should you not be satisfied after an initial six months. The system is priced at $9,000 a month, for six months.
That was for the top three of the 10 customers but, according to Dell the new Hybrid Cloud System is "for the other seven of the 10". ®
Sponsored: Webcast: Build the next generation of your business in the public cloud