Yahoo! boss! Mayer! promises! shake-up! in! bid! to! save! her! job!
Another earnings disappointment for firm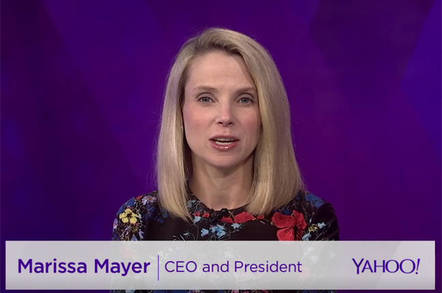 The latest effort to turn around internet stalwart Yahoo! appears to have stalled again with a disappointing earnings report.
Shares dropped 2 per cent on the news that the company had missed its third-quarter targets with 15 cents a share in income and $1.23bn in revenue. The markets were expecting 17 cents and $1.26bn.
Shares as of writing are at $32.83: a long way from a recent high of $51.75 this time last year.
Even though the results weren't terrible, it has sparked renewed questions over the future of CEO Marissa Mayer, who has been trying for three years to turn the company around, with limited success.
Mayer recognized that fact and noted on the earnings webcast that the results were "not indicative of the performance we want." She blamed "revenue headwinds in our core business."
Clearly recognizing that her head is on the block, Mayer implied that a big change was coming.
"We are at a "unique moment for Yahoo!" she said, and the company was going to focus on "fewer products" and "delineate our focus." She plans to "simplify" Yahoo!'s structure, and more details about the effort to "reset and realign" will come in the next earnings call.
Key to that turnaround will be the sale of its shares in Chinese giant Alibaba. Yahoo!'s 384 million shares are worth $32 billion, while Yahoo!'s core business is worth just $4 billion.
In an effort to get that money in its shareholders' hands, the company announced a plan at the start of the year to transfer the shares to a subsidiary called Aabaco and then distribute them to shareholders, so they don't have to pay any tax on them until they cash out.
However, that plan has not yet received the approval of the US tax authorities. Mayer said the company had made "good progress" on the deal and that they hoped to complete it before the end of the year, although she also noted it could end up happening in January 2016.
However, Yahoo! CFO Ken Goldman noted that the plan was still reliant on the IRS giving it a thumbs-up, putting a question mark over it. If the deal falls through, shareholders are likely to take it out on the executive team.
Cuts
Yahoo! has been cutting its workforce heavily – it's down 14 per cent this year and 32 per cent over the past three years. That has helped keep shareholders happy, but in recent months senior executives have been jumping ship too.
Last week, its development head Jackie Reses and marketing partnerships head Lisa Licht both quit. Last month, CMO Kathy Savitt also jumped ship. They add to a long list of senior execs who have left since June.
Mayer addressed the concerns briefly, claiming that the "shift in our management" was part of a long-standing plan, that the current exec team was "the best there has been under my tenure," and that the new team now has the "skills, passion and ability to executive growth."
It was an effort to paint herself as in control and a strong leader. It's not clear that others agree.
Despite an increase in revenue – up 14 per cent on display ads and 13 per cent on search revenue year-on-year – the company has failed to meet its targets for the past three quarters, mostly thanks to traffic acquisition costs and investment in its Gemini ad platform – something the company has had to rebuild after the last effort to rejuvenate Yahoo! gave its technology away.
Mayer noted that she didn't expect this lackluster performance to change any time soon. The changes under way will take time to bring in greater margins and revenues, she said.
On one plus side, Yahoo! announced a search deal with Google that will run for three years. The deal is non-exclusive and will cover both mobile and desktop. That deal has been widely expected after Yahoo! pulled out of an exclusive deal with Microsoft that had been put in place by Mayer's predecessor. ®
Sponsored: Beyond the Data Frontier