Microsoft boss Satya Nadella is paid $18m – and would trouser $20m if sacked
Profits halved, yet SatNad scoops fat cheque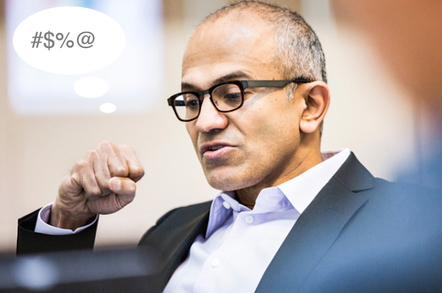 Microsoft's chief exec Satya Nadella was awarded a big fat pay packet of $18m (£12m) for the company's last fiscal year.
Nadella was awarded $12m in stocks for the period, according to the company's filing to US regulator the Securities and Exchange Commission. He also received 120 per cent of his target bonus – $4.3m (£2.8m) on top of his baseline $1.2m (£775k) salary.
The note said:
In fiscal year 2015, operating income and earnings per share declined, while consistent progress was made in building future growth opportunities.

Mr. Nadella provided strong, consistent vision and execution on our mobile-first and cloud-first strategy, continued to effectively guide the transformation of the Company's culture and he effectively represented the Company with customers, partners, investors and employees.
It also said Nadella established and articulated the company's "three broad ambitions to focus the company's offerings, and consolidated the operating systems and devices groups into the Windows and Devices Group."
"Under his leadership, Windows 10 was successfully launched and the executive compensation program became significantly more performance-based."
According to the note, the amount that would have been payable to Nadella if his contract had been terminated would be $20m (£13m).
For the full year ended June 2015, Microsoft reported $93bn (£60bn), an increase of 10 per cent on the previous year. Net income came in at $12.2bn for the year, down from $22.1bn (£14.2bn).
Microsoft is to report its first quarter results for the fiscal year 2016 later this week. ®
Sponsored: What next after Netezza?