Minicab-hailing app Uber is lawful – UK High Court
A smartphone can't be considered a taximeter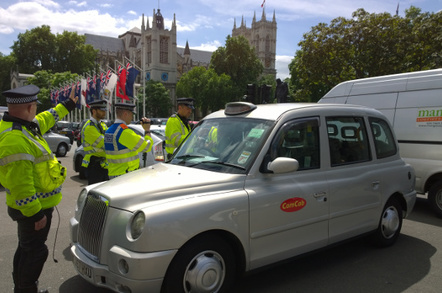 Uber's minicab-hailing app has been found lawful in the British High Court, following concerns over its alleged use as a taximeter, which is currently outlawed for private hire vehicles.
The decision came after a request for clarity by UK local government body Transport for London (TfL), essentially asking the court rule on whether the Uber's mobiles could be considered taximeters; that is, devices for calculating fares.
Justice Ouseley heard arguments from both Uber and TfL, which noted that the "results of the calculation are transmitted to the driver and customer via their Uber apps" and then to "the third party which debits the customer's account".
As the smartphone itself did not carry out the calculations, but is in the case of Uber transactions merely a vehicle for communicating the results of those communications, it could not be considered a taximeter, it was judged.
The court's final declaration was to define a taximeter:
A taximeter, for the purposes of Section 11 of the Private Hire Vehicles (London) Act 1998, does not include a device that receives GPS signals in the course of a journey, and forwards GPS data to a server located outside of the vehicle, which server calculates a fare that is partially or wholly determined by reference to distance travelled and time taken, and sends the fare information back to the device.
TfL welcomed the decision in the High Court, saying that its "view has always been that smartphones are not taximeters. However, it recognised the validity of arguments to the contrary and the significant public interest in establishing legal certainty in the matter."
TfL also indicated certain stakeholders have intimated that they will take the matter further.
A consultation is available for TfL's new regulations, which are considered to make room for "disruptive" business models such as Uber's.
The Register has contacted Uber for comment and will update this article when we receive a response. ®