Après le Dell-uge, VMware is still partnership material
IBM's SoftLayer signs up as NSX-powered vSphere hybrid helper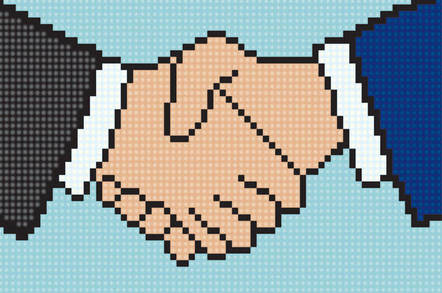 One of the selling points of the Dell/EMC deal, aka "Le Dell-uge", was that all the component companies controlled by Dell the man will be able to cross-sell each other's stuff and cash in.
That sound? Alarms going off inside all the server and cloud vendors who work with VMware but now fear nourishing a rival.
The Reg's virtualisation desk hears VMware's sent a soothing letter to partners telling them it will remain independent and business can and should go on as usual.
And for now, its correct, if IBM's decision to sign up for vSphere support in its SoftLayer cloud is any indication.
Big Blue's cloud and Virtzilla have teamed up to allow on-premises workloads to extend into SoftLayer thanks to vMotion and VMware's NSX network virtualisation product.
The deal will mean its possible to do live migrations of on-premises workloads tended by vSphere into SoftLayer. NSX will mean network connections are preserved during those hops, making for what SoftLayer promises will be downtime-free moves into its cloud. Integration between VSAN, VMware's virtual storage appliance, and SoftLayer's cloudy storage is also pledged.
Big Blue's also throwing people at vSphere, equipping its Cloudbuilder Professional Services teams to do vSphere 6.0 setups.
This deal was announced at VMworld Europe, so was almost certainly signed off before Le Dell-uge. IBM's quit the x86 server business, so has no reason to fear a Dell/VMware tie-up. Yet as a demonstration that VMware's independence is untarnished, a deal with IBM is hard to top. VMware's management, we expect, will point this out a lot in coming months. ®
Sponsored: Minds Mastering Machines - Call for papers now open