$65m write-down, ARM chips ship: A 90-second guide to Planet AMD
The latest from Mini Chipzilla in its third quarter of the year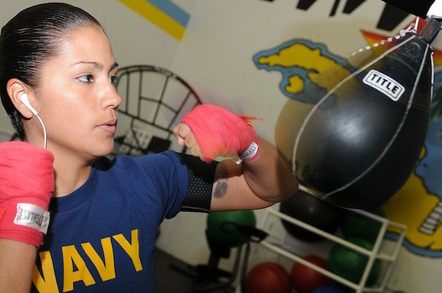 Intel punchbag AMD wrote down the value of its computer chip stockpile by $65m in the third quarter of 2015 after it couldn't flog some of its older inventory.
Meanwhile, the processor designer will, for the first time, ship "modest" numbers of its 64-bit ARM-compatible server chips in the final three months of this year.
This and more emerged from AMD's sobering Q3 2015 financial results published on Thursday afternoon, California time. Here's your roundup of the GAAP stats and facts from the quarter, which ended September 26:
Net revenue was $1.06bn (£646m), down 25.7 per cent year-on-year from $1.429bn (£923m). Falling sales of x86 processors and graphics chipsets were blamed for the decline.

The company made a net loss of $197m (£127m) versus a $17m (£11m) net income in Q3 2014.

Earnings loss per share worked out to $0.25 per share versus $0.02 earnings per share in the year-ago quarter.

Any hope of a profit this quarter was dashed by a $65m (£42m) inventory write-down: AMD has a big pile of older x86 system-on-chips that it can't sell, so it's had to lower their value to shift them.

Revenue from the company's Computing and Graphics wing fell 46 per cent from the year-ago quarter, all thanks to lower PC sales and thus fewer chips needed. AMD is lowering the prices of its x86 processors as the prices of notebooks slip. Interestingly, sales increased sequentially 12 per cent thanks to the launch of the Carrizo family of chips.

Revenue from the Enterprise, Embedded and Semi-Custom segment decreased two per cent year-on-year due to "lower embedded product and server processor sales."

AMD will ship "modest" numbers of production-grade 64-bit ARMv8 chips for servers in the final quarter of the year, the first time it's properly shipping its Seattle system-on-chips. AMD CEO Lisa Su told analysts in a conference call:

I continue to believe ARM has a place in the data center as you think about the convergence between networking storage and servers. I think it's fair to say for all of us that [the ARM architecture] has been slower to adopt in the server market just due to the some of the software and the infrastructure. Relative to Seattle, we will be starting our first modest production shipments in the fourth quarter this year. I view [ARM as a server platform] as a longer-term bet, so no question that server market is attractive, datacenter is attractive, we're very focused on it from an x86 standpoint and we'll continue our ARM efforts in a complementary way.

AMD has started a joint venture with Nantong Fujitsu Microelectronics, a move that should inject $371m in cash, and $320m in net proceeds, into AMD. Mini Chipzilla is basically spinning off its semiconductor assembly and testing operations in Malaysia and China, and hooking them up with Nantong Fujitsu.
(Lost count: the number of times Su and her chief financial officer Devinder Kumar said "successfully executed" on the conference call.)
AMD stock was down 0.51 per cent in after-hours trading despite its net revenue and earnings loss per share beating analyst expectations of $996m and $0.12 respectively.
For those praying for AMD, it has $755m in cash in the bank, and debts totaling $2.26bn. A lot of runway left but little sign of takeoff. ®