Where will storage go over the next 15 years? We rub our crystal ball
Follow the money – or, at least, our projections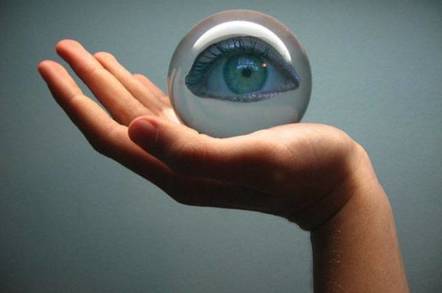 Analysis Let's fly up to 20,000 feet and survey the storage landscape from there, and then stay at that height until 2030. What will we see?
Our starting view is utterly basic and pretty reasonable. Most of the storage equipment is based on disk and most of it is on-premises. Some of the data is being stored in flash and some of the equipment is in public cloud data centres. There are around seven large systems companies involved in storage one way or another: Cisco, Dell-EMC, HDS, HP, IBM, NetApp and Oracle, plus about a hundred smaller suppliers and startups.
We know there are many things happening in the on-premises storage market as the dominating legacy disk-based SAN and NAS, or block and file, arrays give way to multiple alternative storage strategies; flash and hybrid flash and disk, object storage for multi-PB file stores, Hadoop for Big Data, converged and hyper-converged for pursuers of simplicity, virtual SANs ditto, scale-out designs of various sorts, silo-melding software-only storage products, unified block and file, and object storage using commodity hardware, and so on.
We know legacy storage SAN and NAS array sales are falling in the face of this onslaught. Will there be a new storage paradigm as dominant as the SAN and NAS duopoly of a few years ago?
We think not. The toothpaste is out of that particular tube.
A bigger question by far is, what will happen to the proportion of enterprise IT that is in the cloud? Will it grow or will it be a steady state play? We think it will grow.
So the the questions are, by how much and over what period?
Public cloud futures
Are public clouds like water and power utilities or banks and airlines? How will our trio of giants – Amazon, Azure and Google – develop in either case?
If they are utilities then they will become dominant, freezing out competition from on-premises IT with lower prices fed by massive economies of scale. New entrants to their market will be dissuaded by astronomical costs of entry. The starting table stakes are already beyond most IT suppliers already.
If they follow the business model of banks and airlines, then there will be regional and national powerhouses with several tiers of smaller players below them. There will be substantially more competition and new entrants will be able to buy stakes at the table. So which is it? Utilities, or banks and airlines?
No one knows. It's happening in slow motion before our eyes and no one can be certain of the end game, or how long it will take to arrive.
The public cloud is like global IT warming; climate change, with quasi-religious adherents on each side of the debate. Are you a public cloud denier? What a silly-sounding question. But there are real questions for IT supplier and customer strategists to answer and the most fundamental and important one is, are public clouds utilities and destined for global IT domination? Are we seeing the big switch that's been forecast by IT futurologists?
Let's suppose that the proportion of business IT going to the cloud continues to rise. What then?
On-premises IT shrinks.