Connected Data gobbled for $7.5m? More like an $80m funding round
Up to $5m in earnouts (possibly) plus Imation stock prospect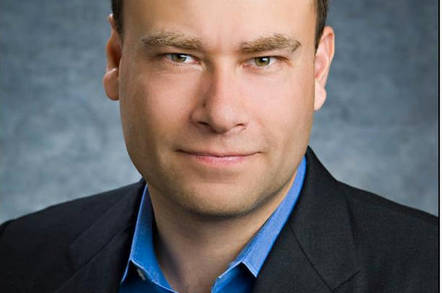 CEO Q&A The $7.5m purchase of Connected Data by Imation can be looked at as an $80m funding round with a potential bonanza from a successful Imation restructuring-driven stock price rise.
Also, as well as the $7.5m paid up front, there is a potential $5m earn-out in more Imation stock based on revenue targets in the two halves of 2016 and the first half of 2017, with stock at either $2.75 or $3.00/share, which makes it potentially a $12.5m deal. So the main potential benefit to Connected Data is dependent on getting the Imation stock price up and then crystallizing the value of its shareholding.
We were briefed by Connected Data founder and CEO and now Imation CTO, Geoff Barrall.
El Reg I understand Connected Data funding was a $6m A-round and $260,453 from Kickstarter. How come Imation is only paying $7.5m for the company?
Geoff Barrall The deal is actually over $12m (based on performance) but I think it's important to understand what's happening. The Connected Data exec team will move into key positions at Imation and the Connected Data investors will be holding Imation stock, so the ultimate value will depend on what you see happening at the company in the future. The resources of Imation will be immediately available to help build Connected Data, including a healthy cash balance and an excellent world-wide storage channel sales force from Nexsan and IronKey.
El Reg What prospects do you see for Transporter, the Nexsan arrays, and IronKey?
Geoff Barrall Transporter provides the ability to tie Nexsan and IronKey together in a seamless way. Right now the IronKey security appliances are a brand leader in their space, but each one is a point product where files need to be added and removed individually. Transporter enables those devices to become interlinked and they will be able to communicate with each other or a central point, which will be a Nexsan storage array back at HQ.
This clearly increases the value of each technology and also introduces Transporter to a whole new marketplace. For Transporter, it adds a truly secure endpoint for companies and organizations that need very secure mobile data.
El Reg Imation has about $80m in cash, into which the Connected Data people can dip and use for product development in the IronKey and Nexsan areas to integrate Transporter technology.
Imation stock is currently trading at $2.08, having been at $4.72 in April, peaking at $6.40 in 2014, down from a peak of $11.97 in 2011. It's quite a punt by the Connected Data investors, but there sure is a lot of potential. ®