IBM CEO Ginni Rometty also cool on EMC/Dell
Hardware? We're mostly over that and zooming away on a cloud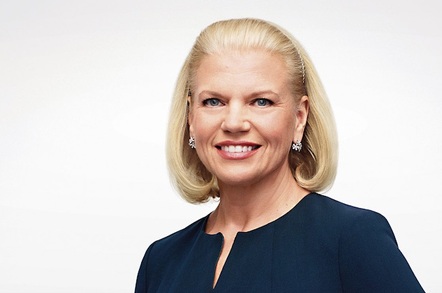 EMC/Dell deal IBM's CEO Ginni Rometty has offered a guarded-but-mostly-negative opinion on Dell's acquisition of EMC.
Speaking at the Fortune Most Powerful Women event, Rometty said she's noted the deal but that IBM sets its strategy according to what IBM thinks is right, and not in response to competitors' activity. IBM won't be changing anything as a result of Dell's actions.
Nor is IBM interested in following Dell with an acquisition to broaden its activities. Rometty said "some people are interested in size" and added "I happen not to be a believer in that".
Which sounds an awful lot like Rometty saying she thinks Dell/EMC was not the greatest idea in the history of business.
IBM's CEO went on to say that hardware accounts for just ten per cent of IBM's revenue, and that Dell/EMC is all about hardware. Rometty said IBM's very happy with hardware's current contribution to its coffers, but happier with the rate at which its cloud and big data services are growing.
She added that IBM's investors let it take a long view in much the same way that Dell claims its privately-held status allows. Rometty reckons IBM is therefore focused on preparing for future opportunities as much as it is serving customers today.
Some of Rometty's remarks are to be expected: what CEO would concede that a rival's structure offers it an advantage? But they also raise a decent question about how Dell/EMC's future plans once the acquisition is bedded down. IBM's demonstrably tooling up for cloud. Dell/EMC looks like it is all about milking the demonstrably dwindling future of on-premises IT.
VMware and VirtuStream both Dell/EMC a cloud play, but the roadmaps for both are currently less than amazingly clear.
Rometty's remarks can be viewed here. ®
For full coverage of Dell's EMC buy, click here
Sponsored: What next after Netezza?