Ring Chime: Needy wireless doorbell or $30 bling t'ing?
It works, but do I really want a gadget that emails me begging for a recharge?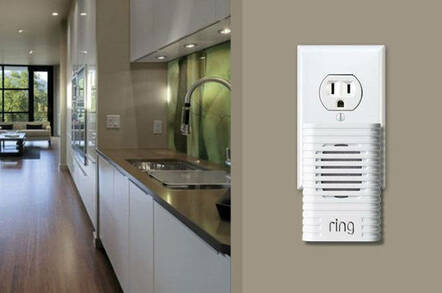 Review We were quite taken with the Ring doorbell earlier this year. For $200, and after some very basic DIY, you get a high-tech security device.
It includes an HD camera, an intercom, a motion sensor and, yes, a doorbell.
The Ring links to your phone, gives you alerts, lets you watch video of people through it and lets you have a conversation with the person at the other end. Never miss a delivery again and scare off potential burglars. Perfect.
There were a couple of problems with the Ring, though. One of the biggest was that it required a wired connection to set off a doorbell sound in your house.
Roughly half of all doorbells in the United States use a very simple and very cheap radio system. The button is powered by an AA battery; it sends a quick and simple ping to the doorbell inside, which you can mount pretty much wherever you want.
The Ring, however, does not connect to these devices. Yes, if you have a wired system, it will work. Yes, if your phone is not set to vibrate, your phone will ring. But otherwise, the doorbell is pressed and you don't hear it, which can make it somewhat pointless.
Enter the Chime. The Chime solves this use case for the company. Simply put, it is a doorbell extender. You plug it into any socket in your house, connect it to your wireless connection, tell it to talk to your Ring doorbell through the Ring app and henceforth, whenever the Ring sets off an alert, the Chime also rings. Problem solved.
Downside
The Chime, however, is an imperfect solution for a number of reasons.
One, it costs $30. Which is a lot of money for a doorbell ringer. Second, you have to plug it into a power socket. So not only does that permanently take up a power socket in your house but it also limits your placement of the doorbell ringer.
Most ringers are typically at head height or above because they spread the sound further. The Chime is almost certainly going to be at foot height unless you put it in your kitchen. That means it doesn't cover as much ground and it can't get as loud as some people will need it to be.
It's easy to understand the design limitations that the Ring was under. For one, it needed to connect to your Wi-Fi because otherwise the doorbell wouldn't be able to communicate with it without a hardware upgrade.
The fact it needs wireless means it really needs to be powered or the Wi-Fi would kill the battery in short order. So the Chime has to fit into a power socket. And that means it needs to be relatively compact or it will stick out of the wall, possibly fall out, possibly get in the way or be kicked off, etc. Moreover, its now small size means it can't hold a large speaker so it can't get really loud. That means if you have a larger house or two floors, you may strain to hear it.
None of that is to say that the Chime doesn't work. It does. It works seamlessly and we've tested it solidly for nearly two weeks. But it is a $30 compromise solution.
And that leads you back to the question: is it worth getting the Ring?
Well, since we reviewed the Ring back in May, the market has moved a little. For example, Nest has brought out its updated Nest Cam. And while that isn't a doorbell, it can be used to supply a number of very useful add-ons that the Ring does – video audio, motion, connection to your phone.
For the same price as the Ring you could get a Nest Cam and then use a traditional simple doorbell system.
Sponsored: Becoming a Pragmatic Security Leader