LASER RAZOR blunted by KickStarter ban
No proper prototype, no cash says crowdfunding platform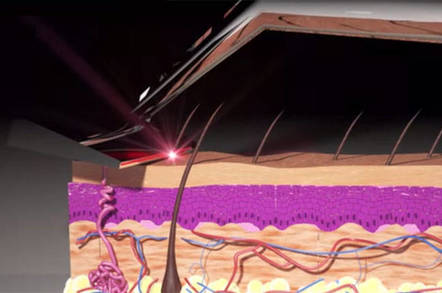 KickStarter has suspended funding for the Skarp Laser Razor, a crowdfunded effort to replace conventional razors with a laser-powered shaving implement.
Reg readers have shared a KickStarter communique in which the crowdfunding platform says "we've concluded that it is in violation of our rule requiring working prototypes of physical products that are offered as rewards."
In other words, the Skarp crew doesn't have a working prototype. This video from the project's KickStarter page suggests there is a prototype in existence, but not a very effective one: the device does knock off a few hairs, but is a long way short of the experience of pulling a conventional razor down one's skin and having the majority of hairs beneath the blade cleft.
KickStarter's email says "Suspensions cannot be undone," so it looks like Skarp's crowdfunding efforts will have to move elsewhere. The project smashed its US$160,000 funding target, securing pledges of over $4m. With that level of interest, Skarp looks a decent chance of drumming up the cash on another crowdfunding platform, if any will have it. ®
Sponsored: What next after Netezza?