VMware sees BILLION-DOLLAR upside in Dell buy
CEO Pat Gelsinger looks forward to his mate Mike taking the long view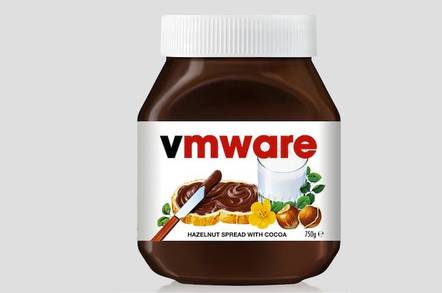 EMC/Dell deal VMware CEO Pat Gelsinger has welcomed Dell's purchase of EMC, saying it should add a billion dollars a year to Virtzilla's bottom line "over the next several years".
Speaking on a conference call staged by EMC, Gelsinger said he "could not be more excited about todays announcement" which he rated "very positive".
Which of course he would on a day like this. Indeed, which he must say on a day like this, because if he's not willing to say it he wouldn't be on the call to say it.
VMware emerges from the transaction in pretty much the same shape it's in now – an independent, listed company with a strong parent expecting great things and seldom shy of resting a guiding hand on its shoulder. Gelsinger said Dell the company plans to keep 28 per cent of the firm and Michael Dell the man "intends to be longer-term owner of VMware." EMC shareholders get some action too: they will receive 0.111 shares of new "tracking stock … linked to a portion of EMC's economic interest in the VMware business." EMC currently owns 80 per cent of VMware.
Gelsinger sounded like he doesn't expect much will be different once the deal closes in the middle of 2016. "VMware's Mission and strategy remain unchanged," he said. It's full steam ahead on the software-defined data centre plan, with cloud, end-user and mobile offerings to remain on their current paths.
Gelsinger suggested some back-of-the-envelope maths has produced the likelihood of a potential billion-dollar boost to VMware's sales as Dell starts bundling and reselling VMware products instead of those from other vendors. Storage and converged infrastructure were mentioned as categories that should do better under Dell's ownership. VMware's CEO also said he expects VMware will find it easier to sell its full range of software to Dell customers.
VMware's vCloud Air will also benefit, Gelsinger said, as it becomes a natural disaster-recovery-as-a-service option for Dell to sell. Desktop-as-a-service is also expected to surge under Big Mike's reign.
Gelsinger said he doesn't foresee VMware having to stop pursuing partnerships with other companies. He said talks with Lenovo, for example, should be ongoing.
Dell looks to have come to the same conclusion as EMC regarding VMware, namely that the software company will continue to set agendas users will follow. Gelsinger's understanding of the deal is that Dell will put lots of muscle behind VMware products.
Will Dell customers like that pressure? As of today, that's a $67bn question. ®
For full coverage of Dell's EMC buy, click here