HP HUMILIATED by Dell's EMC buy
Joe Tucci's acquisition talks timeline looks ugly if you're Meg Whitman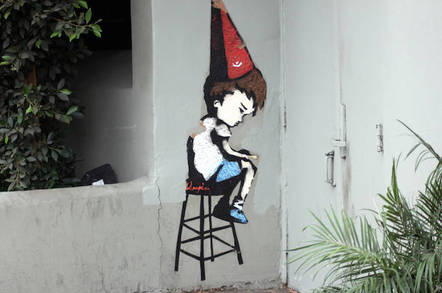 EMC/Dell deal - Analysis There are two big losers from Dell's decision to buy EMC.
One is you, because EMC and Dell have signalled that they intend to put EMC products in your face when you buy from Dell. Outgoing EMC CEO Joe Tucci repeatedly said that Dell is the number one reseller for all manner of third party products and suggested EMC will enjoy Dell's channel, likely at the expense of and/or alongside those suppliers.
That's okay if all the products in the combined EMC/Dell portfolio are good, but even after consolidation and a clean-out there will be mediocrities and stinkers there too. Dell customers will need to be alive to this and act accordingly by applying a little extra scrutiny to all that Dell puts before them.
The second loser is Meg Whitman and HP Enterprise.
Tucci's words again explain why, as on EMC's call he said Dell and EMC have been talking for about a year. Talks were casual for the first eight months and got serious in the last four.
That timeline suggests that Dell derailed HP's bid to buy EMC.
We learned of that bid in October 2014. If Tucci's recall is accurate, Dell expressed an interest in EMC at about the same time as the HP deal collapsed.
Was a call from Mike Dell a cause of the collapse? Or did Dell the man call as the HP deal fell apart?
Either way, once Dell started chatting to EMC about a year ago, HP seems to have become a less attractive partner.
By June 2015, HP/EMC rumours were back and financial analysts were keen on the deal. Thanks to Tucci's timeline, we now know that June 2015 is just about when Dell and EMC started to get serious.
Which looks an awful lot like the two companies accelerating and deepening talks just as Wall Street expressed interest in reviving the HP/EMC deal. In other words, EMC distancing itself from HP. Fast.
It looks to your correspondent that EMC just didn't fancy becoming part of Meg Whitman's new HP Enterprise. Having backed out of the deal, EMC accelerated talks with Dell once it felt the markets might push it towards HP. EMC then structured the deal in such a way and expressed so much ardour for Dell that while it is technically possible for HP to make a counter-bid, it's unlikely to happen.
That defensive posture is another sign that EMC's Board just didn't think shareholders will get a good deal out of an HP combination.
What do HP shareholders think? Of the company's split and its failure to secure EMC? We'll know in just under three weeks when the company breaks up with itself on 1 November. ®
For full coverage of Dell's EMC buy, click here
Sponsored: Becoming a Pragmatic Security Leader